We had family coming over the weekend so needed to cook up some Chinese Smoked Port Belly and Cabbage Dumplings. We were walking through the meat section at Costco looking for inspiration and came across a nice slab of pork belly. I've never done anything with a pork belly other than season it and throw it on the grill. I decided to buy it and utilize in a set of dishes using a Chinese food theme. The menu included:
Chinese Smoked Pork Belly and Cabbage Dumplings
This post provides details on how to cook the Chinese smoked pork belly and cabbage dumplings. It really an easy process and I know you can do it! Try it and really impress yourself, along with, your family and/or friends.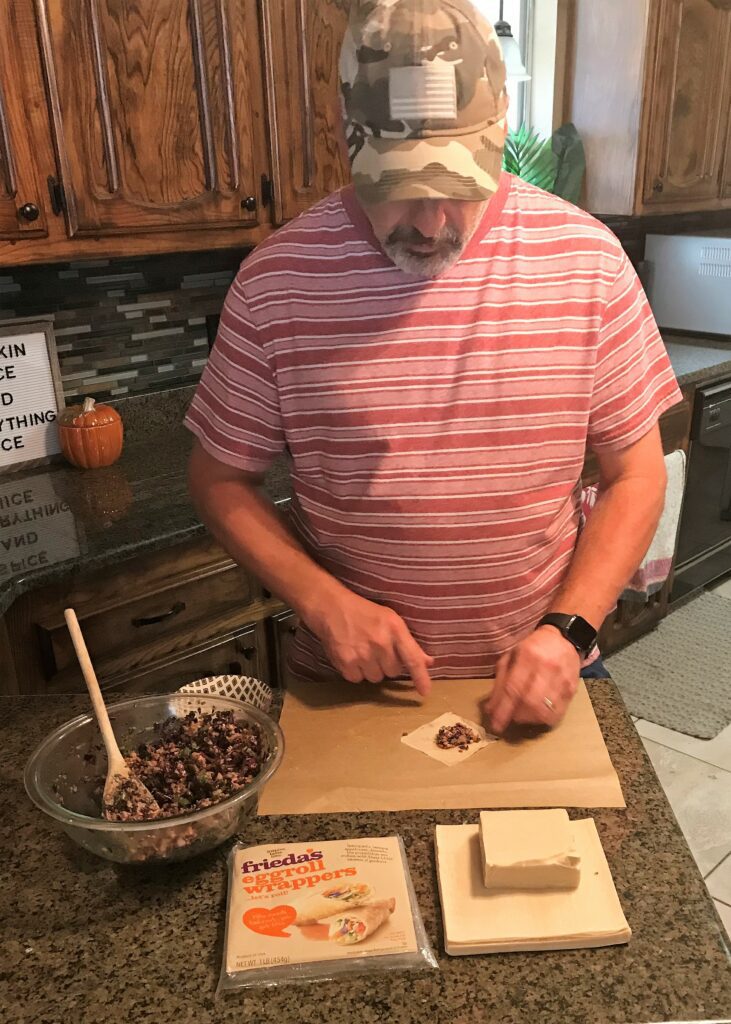 Smoke Pork Belly
Note: Pork belly is an inexpensive, fatty cut of meat from the underside of the pig near the loin. Pork belly is normally salted, cured and smoked to make bacon.
Get your grill heating up. In the meantime, cut yourself a 1 pound piece of pork belly. Season it with salt and pepper on all sides. Put directly over the fire and sear all sides. Move to indirect heat. Add any type of wood or wood pellets, depending on your type of grill, to get the smoke started. I used a little hickory and some apple chips. Mine took about an hour and 1/2 but it really depends on how large the pork belly is, how hot the fire is, and how long you leave it over the direct heat. Use a digital cooking thermometer to measure the temperature in the middle of the thickest part of the pork belly. It is done when it reaches 145 F. Remove from grill and let rest until it's cool enough to work with.
Either slice and dice the grilled pork belly so that's it's chopped up well or just put it in a food processor. My choice was to put it in my Ninja Blender and it did the job very well. Transfer the meat to a bowl.
Mix Dumpling Ingredients
Now we are ready to start adding all the ingredients together to make the dumpling. Add the cabbage, green onions, carrots, cilantro, soy sauce, sesame oil, rice wine, ginger, and pepper to the meat in the mixing bowl. Mix all ingredients together.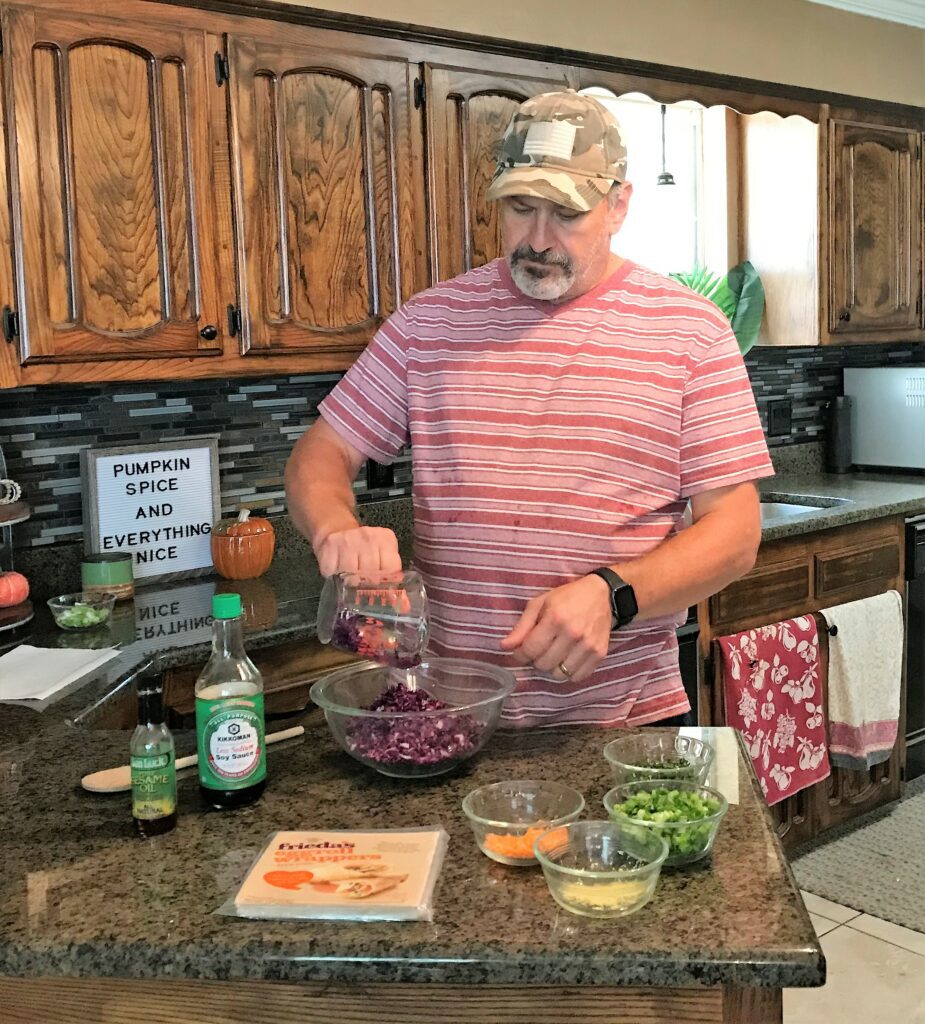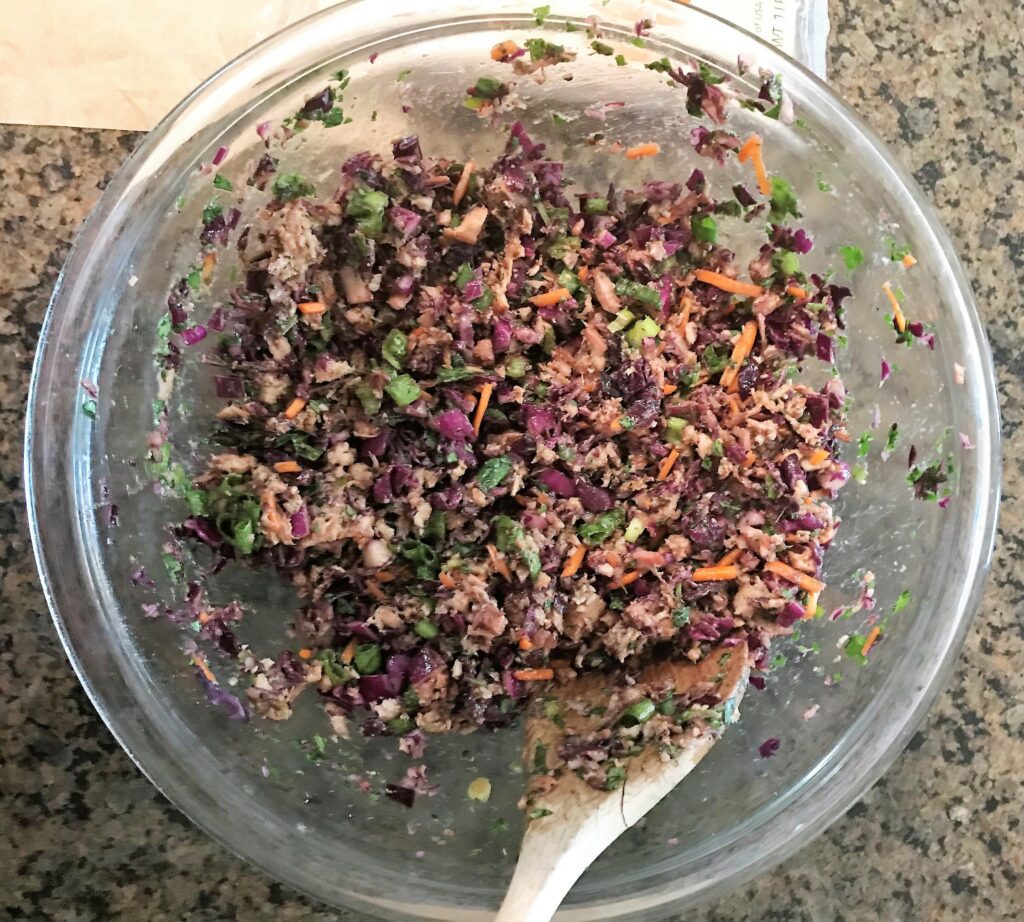 Stuff the Dumplings
Place a piece of parchment paper down or you can use flour on a smooth surface. Lay out a few of the wonton or dumpling wrappers on the parchment paper. Prepare a bowl of water to dip your finger in as you assemble the dumplings. Place a dollop of the stuffing into the middle of the wrapper but not enough so that it squeezes out to the edge.
Next, using your finger, dampen the edges of the wrapper with water from the bowl. Fold two opposite corners together and seal the edges with your fingertips. Fold in the other two opposite corners and the final corner wetting the edges as you go.
Note: There are more sophisticated methods to folding your dumplings but I haven't learned them. That's why we will stick with what works.
Place dumplings either in the refrigerator or the freezer if not ready to cook. They do hold up well in the freezer as long as they are in an airtight freezer or vacuum sealed bag.
The way I like to prepare them is to put a few tablespoons of oil in a sauce pan. Get it to medium-high temperature. Add the dumplings, frozen or not, and brown all sides. Add a little sesame oil and green onions, and enough water to cover the bottom of the pan. Cut the heat back to medium and cover the sauce pan. This allows the dumplings to now steam. Cook it this way for 5 to 10 minutes making sure the dumplings aren't sticking to the bottom. When ready to serve, take the top off the sauce pan and allow evaporation to reduce any remaining liquid.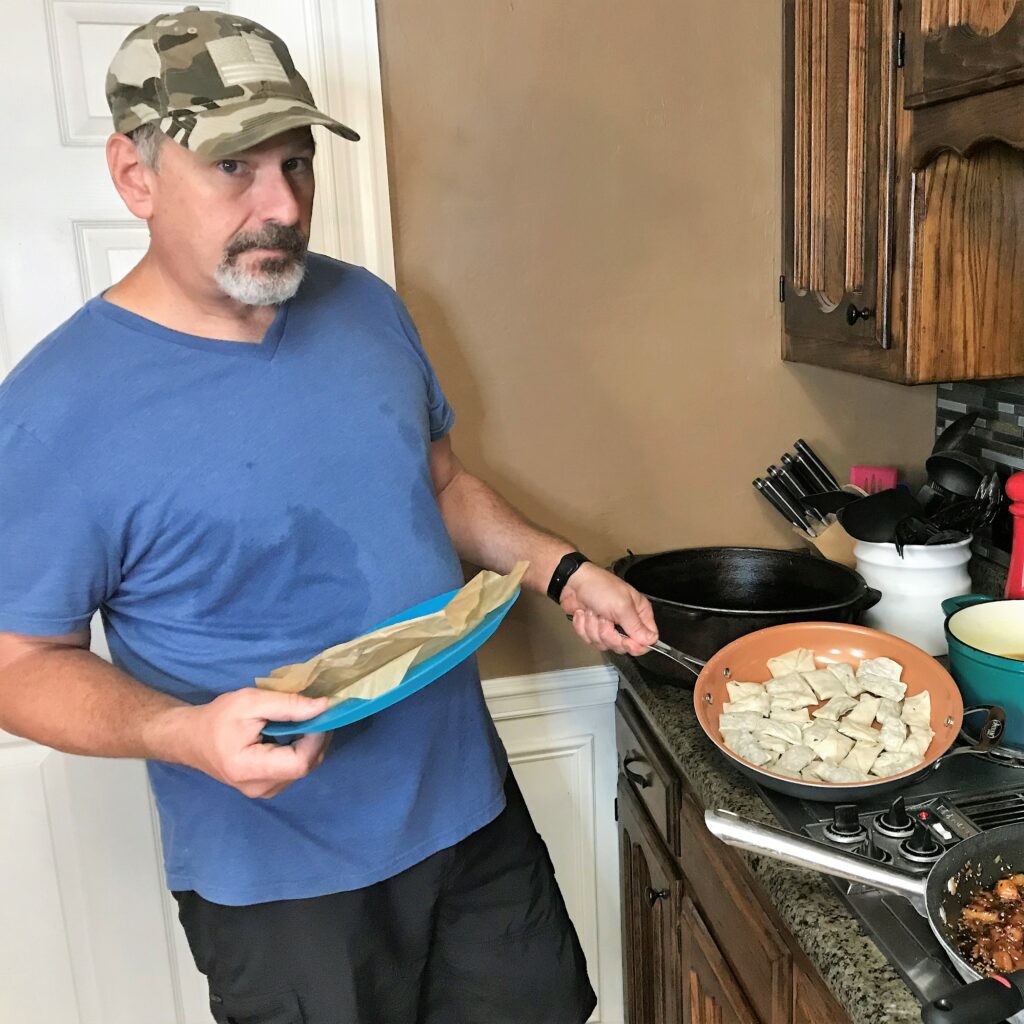 I then add fresh green onions and a few drop of tasty sesame oil. Then dig in!!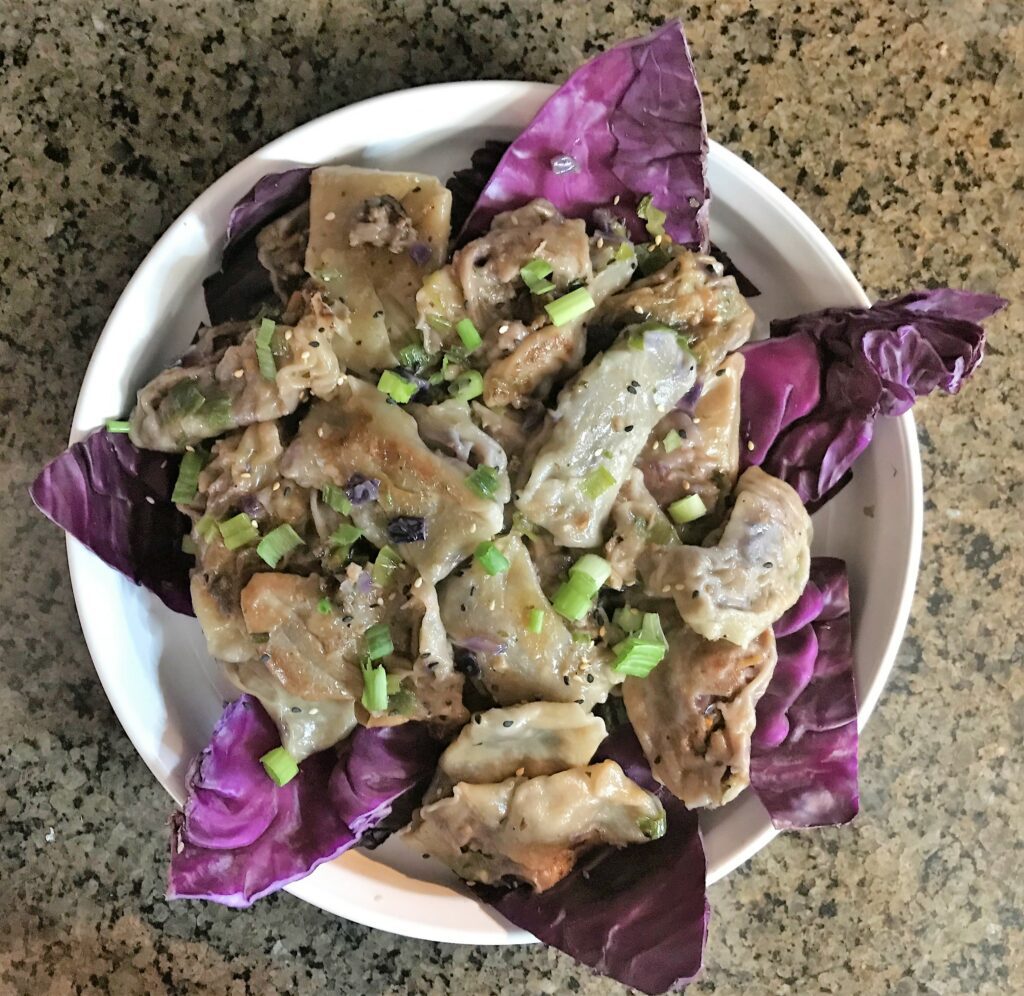 Chinese Smoked Pork Belly and Cabbage Dumplings
Grilled and smoked Pork Belly paired with cabbage creates a deep flavor profile that is to die for!
Ingredients
1

lb.

Pork Belly, Grilled and Smoked

1 1/2

Cups

Cabbage, Purple

1

Cup

Green Onion, chopped

1/4

Cup

Carrots, Shredded

1

tbsp

Soy Sauce

Tamari sauce can be substituted

1

tbsp

Sesame Oil

1

tsp

Rice wine or Sherry

1/2

tsp

Ginger, fresh

2

tbsp

Cilantro, fresh

Salt and Pepper to taste

24

Dumpling Wrappers

2

tbsp

Vegetable Oil

2

cups

water

For steaming in sauce pan

Soy, Tamari or Dumpling dipping sauce

Sriracha for dipping
Instructions
Season with salt and pepper and grill the pork belly until done. Add any type of wood to the coals. I used some apple and hickory for the pork belly.

After cooling, put pork belly in blender and shred.

Finely shred the cabbage and green onions.

Add the cabbage and green onions in a bowl with the shredded pork belly. Add the soy sauce, sesame oil, rice wine or sherry, ginger and the cilantro to the bowl. Mix thoroughly with a spoon. Hands work even better.

Lay off a few of the wonton or dumpling wrappers. Prepare a bowl of water to dip your fingers into. Working a few at a time, put a spoonful of the filling on one half of the wrapper so there there is a gap around the edges. Using your finger, dampen the edge of the wrapper with water from the bowl. Fold the wrapper over and seal the edges with water and your fingertips. If the wrappers are in a square shape, take the corners and fold over.

Place some vegetable oil in a sauce pan. Bring up to Medium-High. Add dumplings and brown on all sides. Add 1/4 tsp of sesame oil and additional chopped green onions. Add water to the pan to cover the bottom 1/3 of dumplings. Cover the pan and let dumpling steam. Every few minutes you should move them around in order to keep them from sticking. After 5 minutes or so, the water will begin to evaporate. Remove the top and let remaining liquid evaporate.

Serve with fresh green onions and Tamari and/or Sriracha Sauce to dip in.
Notes
These dumplings will still be good if you were to substitute pork belly with ground pork and would save a lot of time.
Final Thoughts
Now, enjoy the simple life by sitting with your family or friends, and eating some good chinese smoked pork belly and cabbage dumplings. Please let us know how you like this post or have suggestions on future posts.
If you like this post, make sure you check out my Louisiana Simple Living YouTube channel. Also, check out these other sister recipes on this BLOG.
Enjoy! Remember, if you can dream it, you can do it!
Please LIKE this post. If you have any COMMENTS or QUESTIONS, please post below. Please SUBSCRIBE to our BLOG for additional great content.