Salsa Verde is a sauce or salsa made from tomatillos that you might recognize as that delicious greenish salsa you dip your tortilla chips in at your favorite Mexican restaurant. Other common uses include as an enchilada sauce, salsa for tacos, and a cooking sauce for chicken, pork or fish. There is nothing more satisfying than growing your own produce, using it to cook up something delicious and canning it to last throughout the year. This post will show you my recipe for the best roasted Salsa Verde recipe for canning.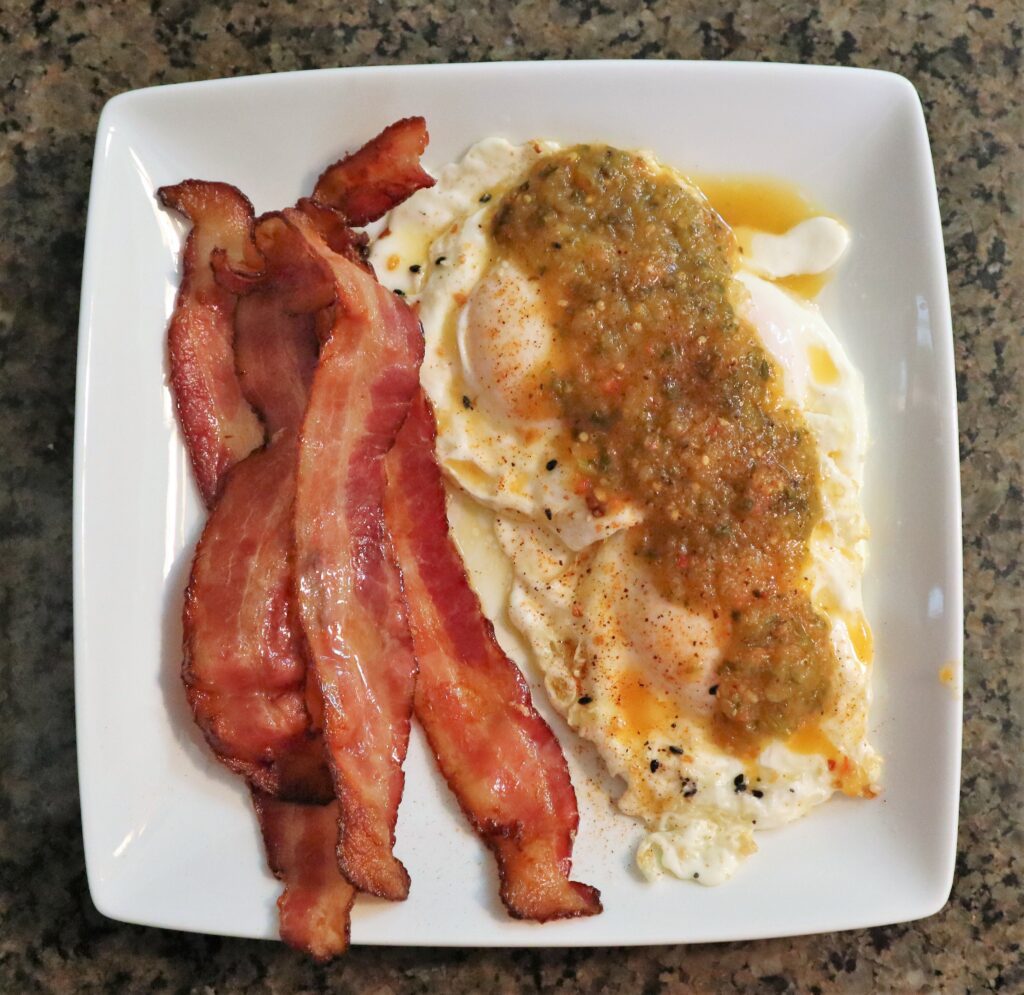 Tomatillos and Other Garden Ingredients
Each year I grow tomatillos in the garden to use for my Salsa Verde. I start the tomatillos from seed about 6-8 weeks before the last freeze in my area of Louisiana, which is Zone 9A. I grow Amarylla (yellow), Verde (green), and Purple Coban (purple) types of tomatillos. They are very prolific and produce lots of golf ball sized or smaller fruit and will keep producing until fall. You know when they are ready to be harvested when you see the outer papery husk splitting showing the ripened fruit.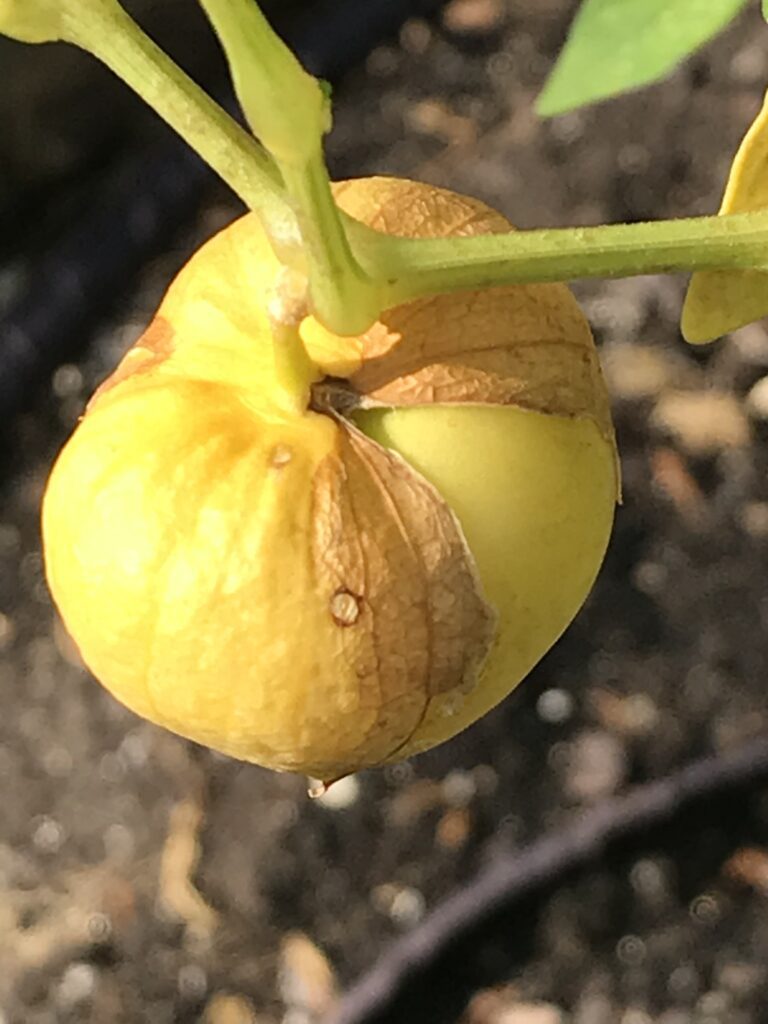 They can be found at most grocery stores and some farmer's markets if you can't harvest them from your home garden. You will need about 2 lbs of tomatillo's. Other items from the garden include 3 to 4 jalapenos (seeds removed), 2 medium sized onions, 2 bell peppers and 4 to 5 cloves of garlic or fewer if you use elephant garlic.
Making Salsa Verde
Roasting Tomatillos and other Garden Ingredients
The first step in the cooking process include roasting your tomatillos and other vegetables. Tomatillos can be roasted whole or quartered, depending on the size. Put the tomatillos and other vegetables on a sheet pan lined with aluminum foil, sprayed with olive or avocado oil. Next, put them in the oven and roast them about 10 to 15 minutes on 550° F roast setting. Keep an eye on them to make sure they are getting a bit of char on them while not burning. Char, not burn, equals flavor.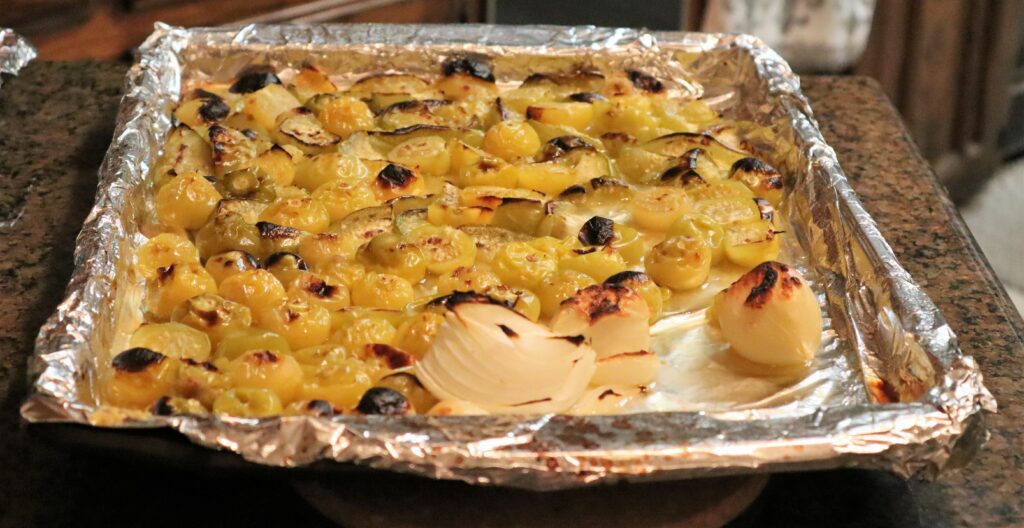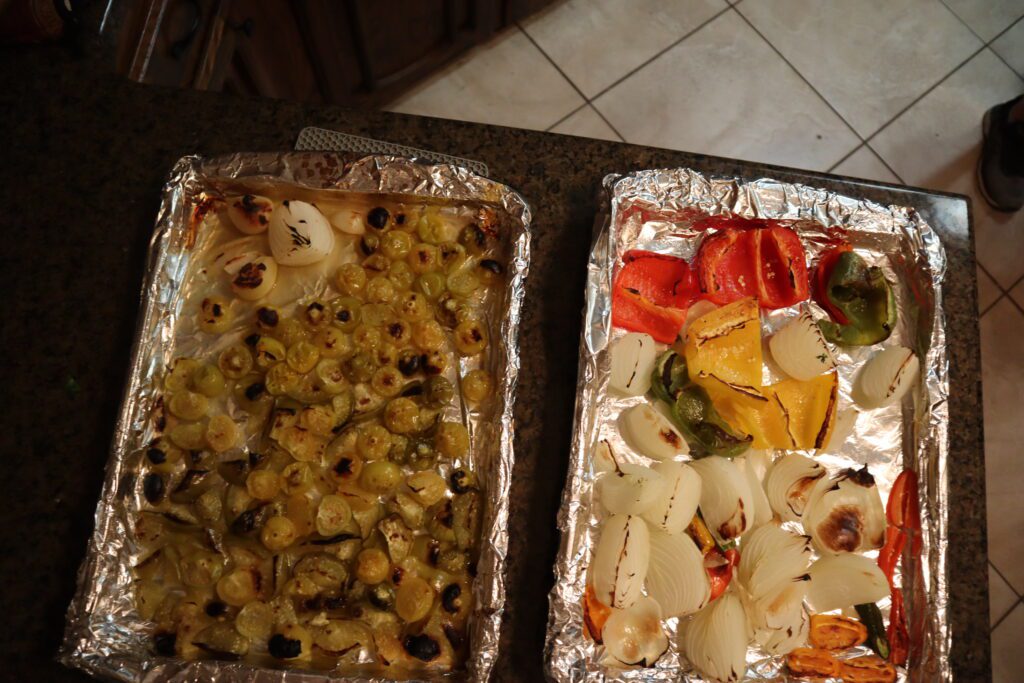 Cooking the Salsa Verde
Next step, I put all the vegetables and their juice in my Ninja blender and blend to a slightly chunky consistency. You can blend it to whatever consistency you desire. Transfer over to a non-reactive pot on the stove. Add in a 1 cup of distilled vinegar, juice from a fresh lime, and finely chopped cilantro. Add about a teaspoon of ground cumin, a teaspoon of crushed red pepper flakes, and salt and pepper to taste. Mix it up and bring the Salsa Verde up to a boil and let simmer for 20 minutes or until desired consistency is achieved.
Note: This version of Salsa Verde is not a green as typical as I used red and yellow bell peppers and jalapeno's. Don't get hung up on the color, rather focus on the taste!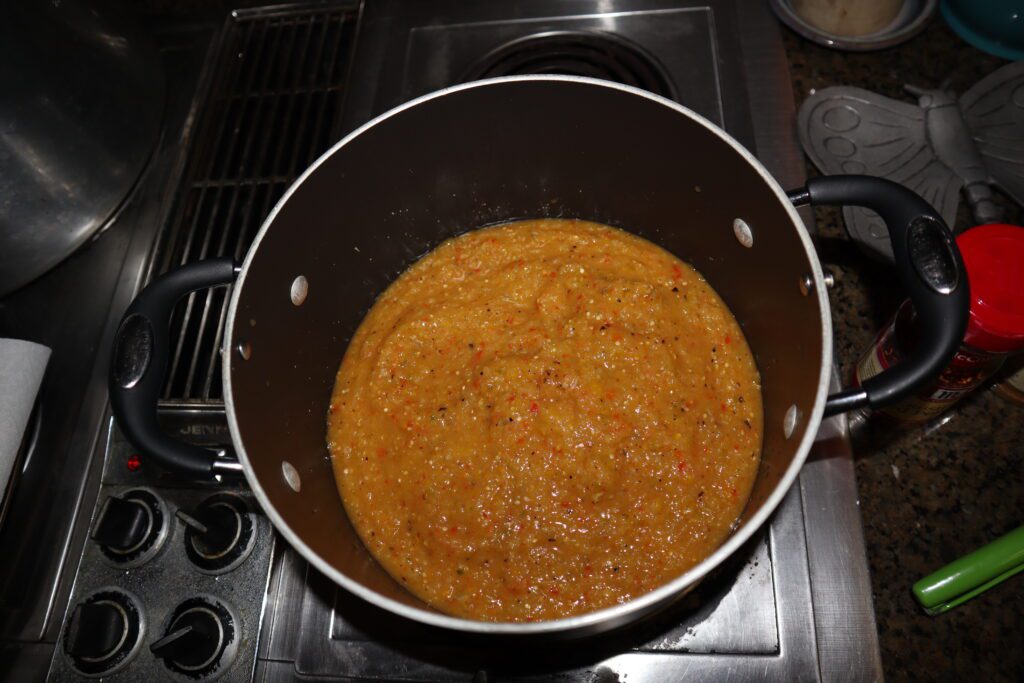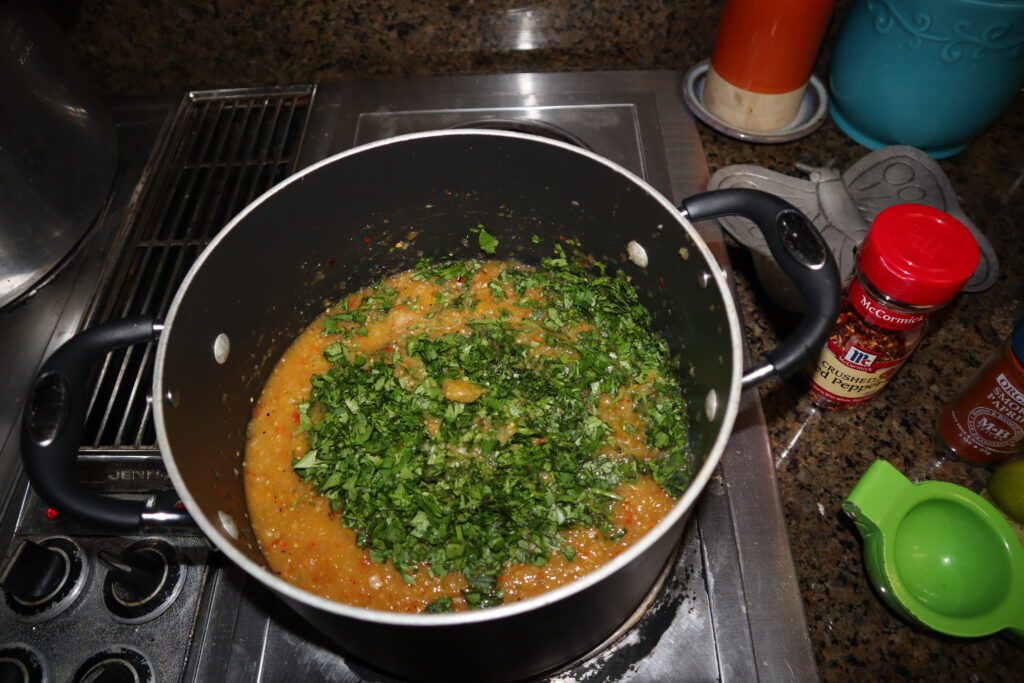 Canning the Roasted Salsa Verde
Meanwhile, prepare your jars by placing in boiling water or in your dishwasher. I use a pressure canner myself but have used the boiling water canning process as well. Pour the hot Salsa Verde into your hot jars using a canning funnel leaving 1/2 inch minimum of head space (from top of jar to the level of the Salsa Verde). Always use a clean and new lid. Finger tighten a ring onto the jar. Carefully lower the jars into the hot water bath with at least 1 inch of water covering the jars.
Process the jars for 20 minutes. Remove from the hot water and allow to cool completely. You should here a "tink" as the jars start cooling. If one of them does not, you will want to refrigerate that jar and use within a week or so. Also, please make sure you label your jars so you know what it is and when it was canned. Otherwise, the Salsa Verde will be good for up to a year.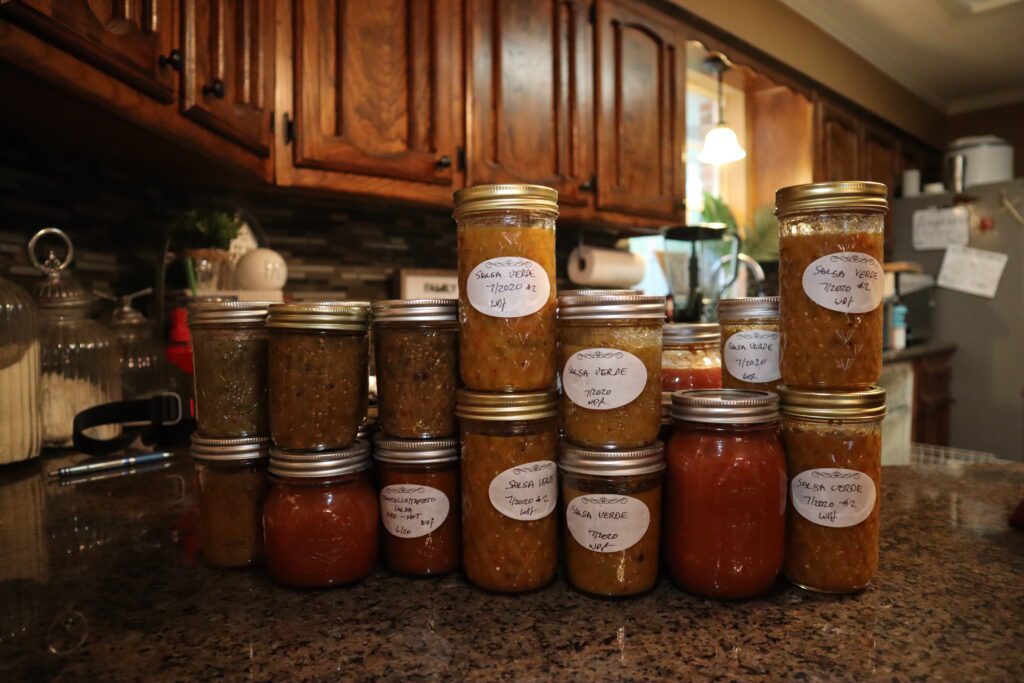 Now, with your favorite beverage, pop open a bag of chips, and indulge in something made with your own two hands. This best roasted salsa verde recipe for canning will be sure to please. Let me know how you like this post or have suggestions on future posts.
If you like this content, you will absolutely love my Tomato Jam recipe post! Please visit our YouTube channel for video content of this post, along with a number of other Garden to Jar or Plate videos.
Enjoy! Remember, if you can dream it, you can do it!
If you like this content, check out
Please LIKE this post. If you have any COMMENTS or QUESTIONS, please post below. Please SUBSCRIBE to our BLOG for additional great content.
Note: As an Amazon Associate I earn from qualifying purchases.