This canning Tomato Jam recipe is a great way to preserve a surplus of tomatoes from your backyard garden. Tomato Jam is easy to make and tastes incredible. The Jam is sweet, tangy, and sour taste all at once. It's great serving your Tomato Jam over a block of cream cheese. Another benefit is you also know its organic because it came from your home garden. So, join me in learning how to make and can Tomato Jam.
Preparing Fresh Vegetables for the Jam
I harvested and prepared a number of tomatoes including mostly Amish Paste and Martino's Roma varieties. The harvest also included a few Beefeaters, Japanese Black Trifle and Black Krim varieties. You may remove skins from the tomatoes at but I prefer to use the whole thing. You can check out those instructions in the recipe down below.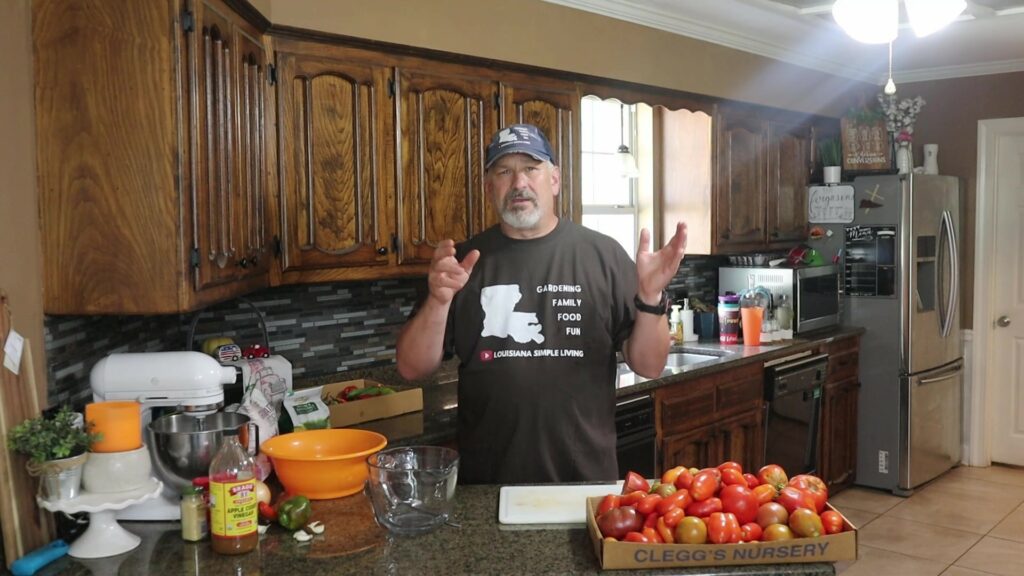 Next, I went ahead and prepared the other fresh vegetables from my garden including some peppers, onion and garlic.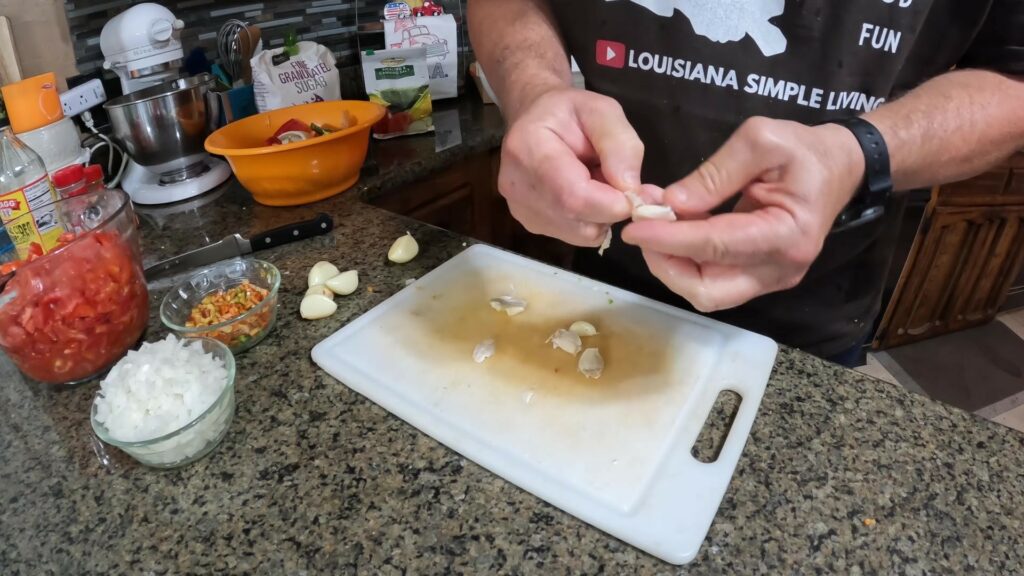 We added the fresh vegetable to a large heavy-bottomed pot and now add the other ingredients.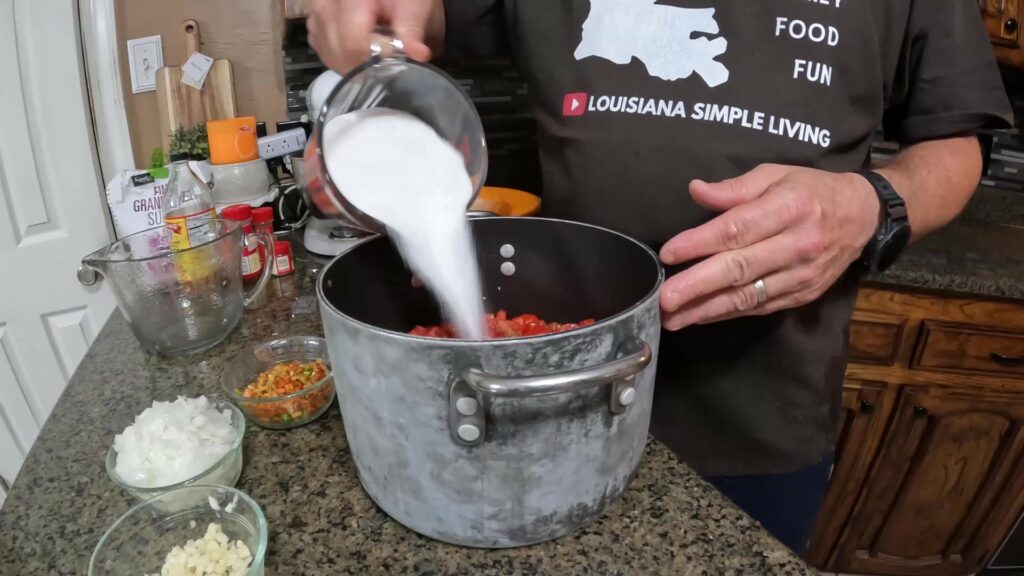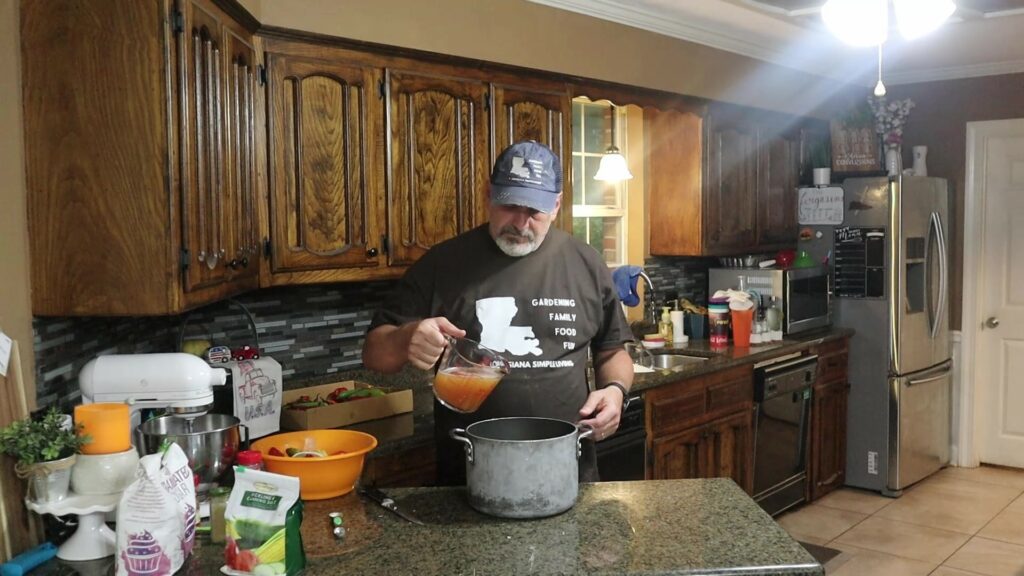 Cooking up the Tomato Jam
Now, it's time to go ahead and cook up the Tomato jam once we've got all the ingredients added to the the pot. Let's now cook it for 45 minutes or so in order to pull much of the water out of the jam. It sometimes takes longer depending upon how juicy the tomatoes are and how hot the burner is. Basically, you want to keep cooking it down until the jam starts mounding up on your spoon.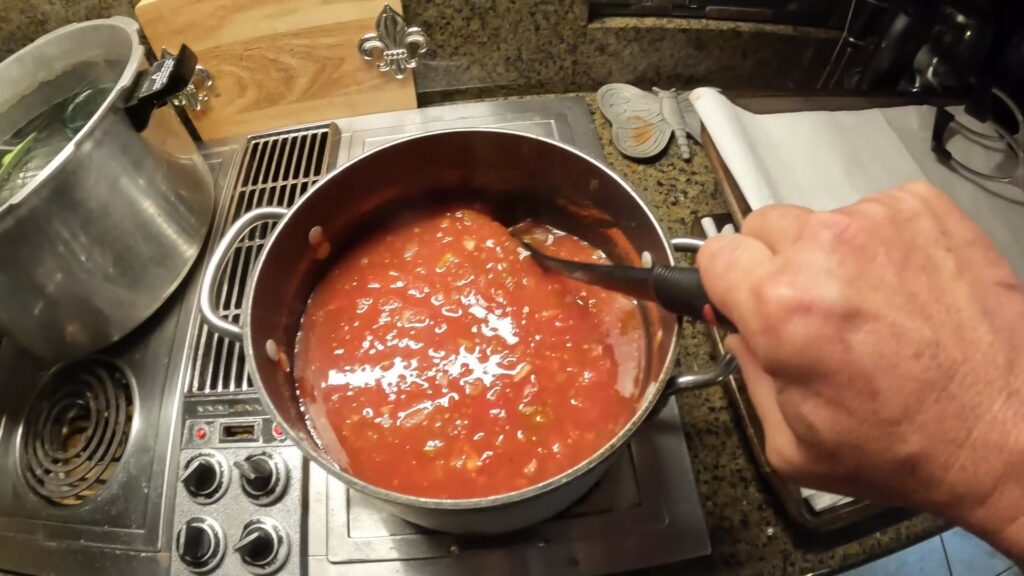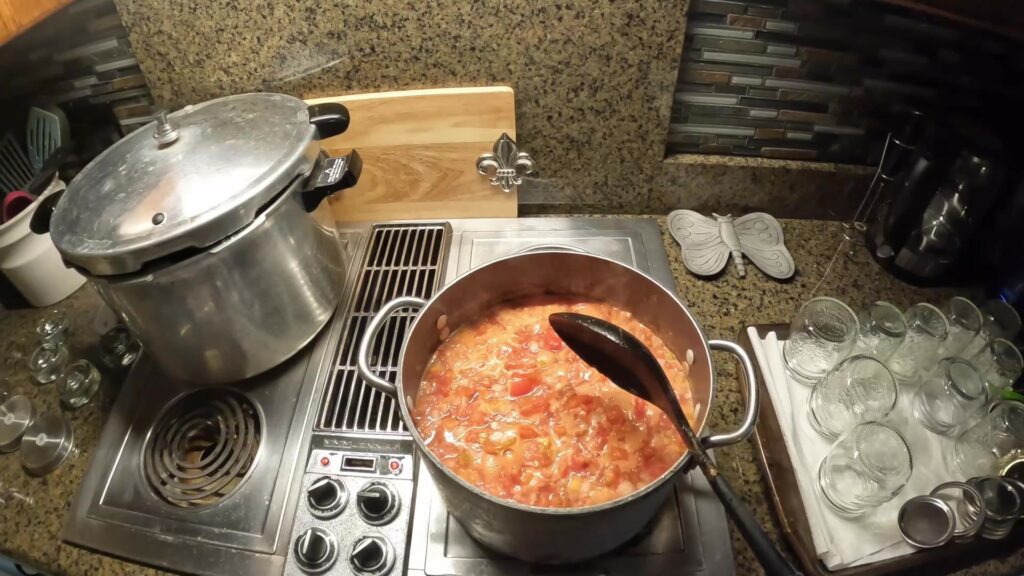 Canning the Tomato Jam
Let go ahead and ladle the tomato jam into the jars for canning.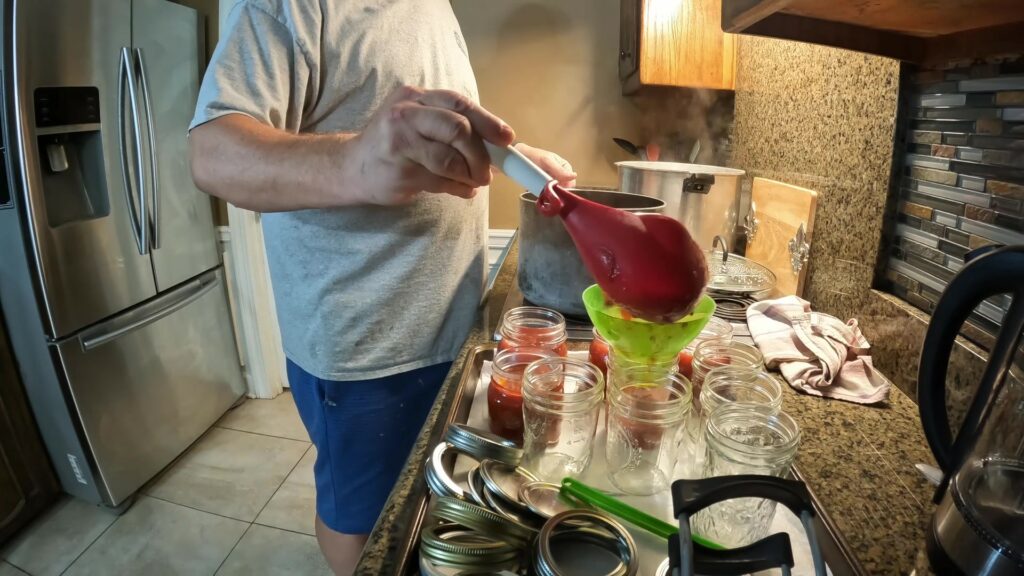 You will leave 1/2″ headspace in your jars. Put your lids and bands on finger tight. Before you do that, get a wet paper towel or other means and clean the rims of the jars to ensure they will be a good seal with the lid's surface.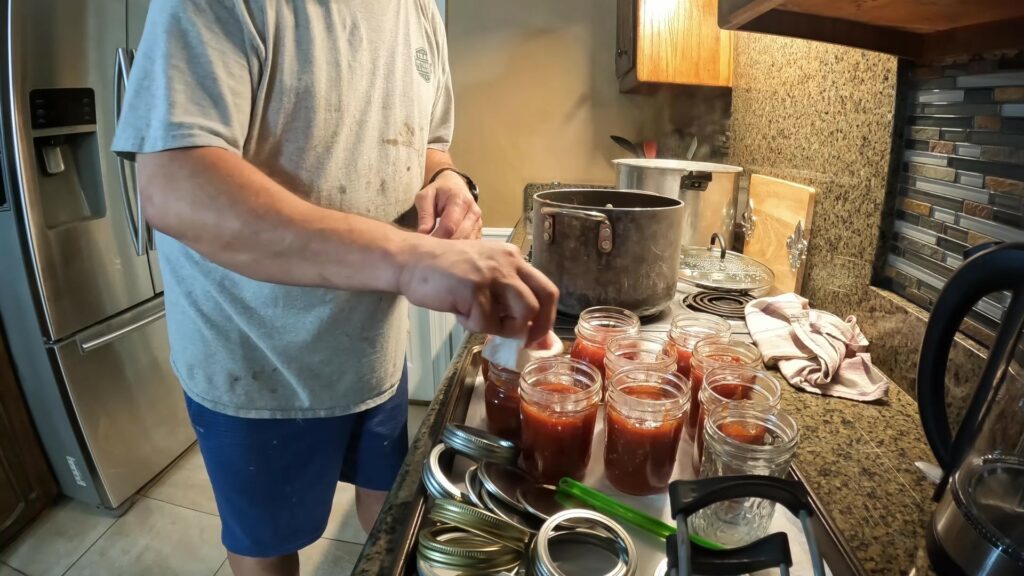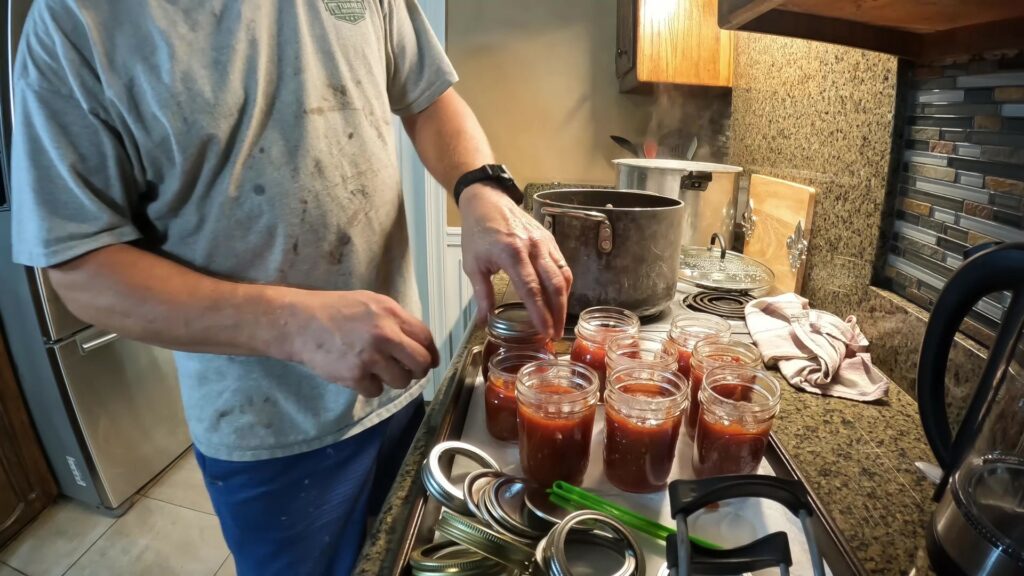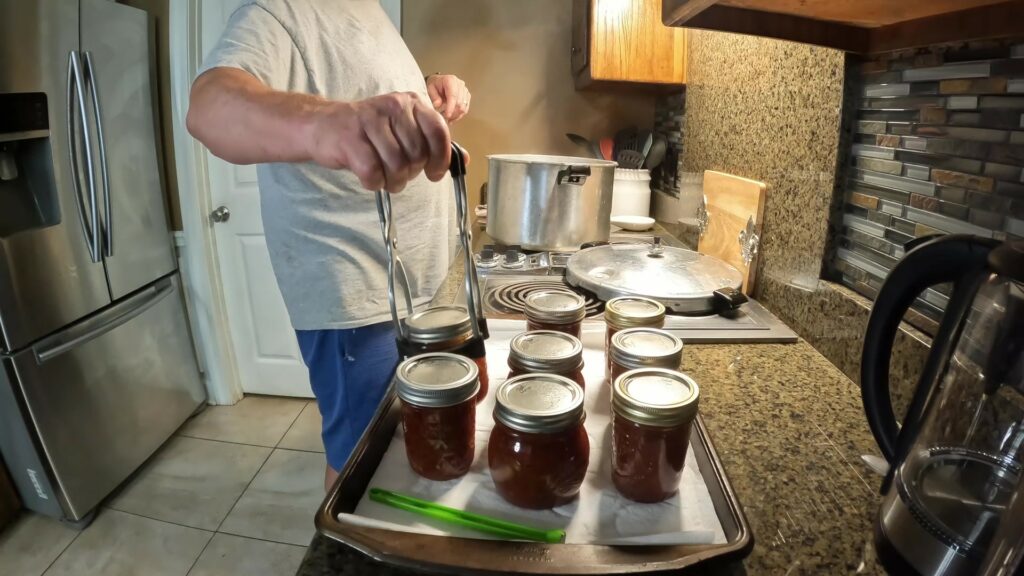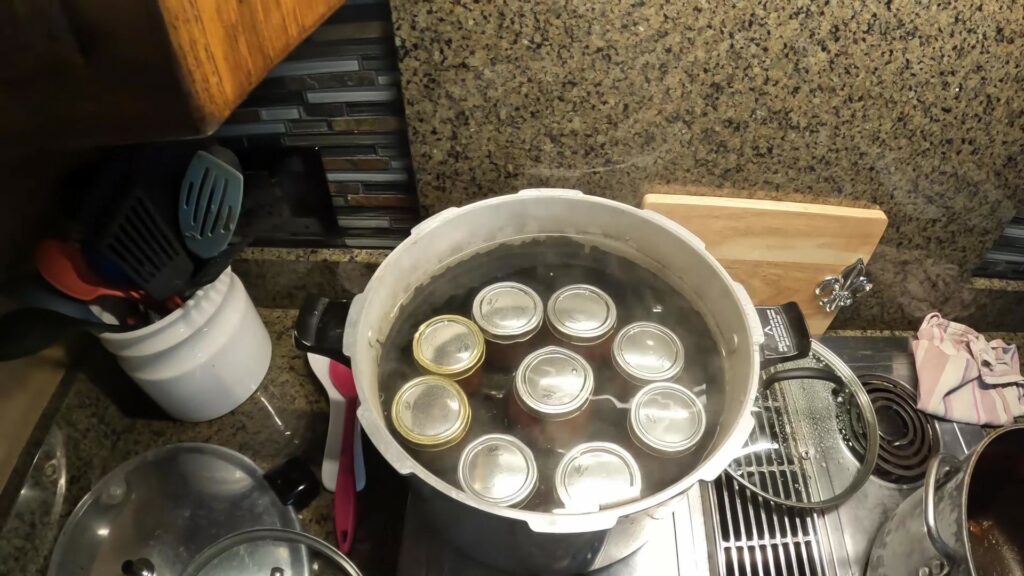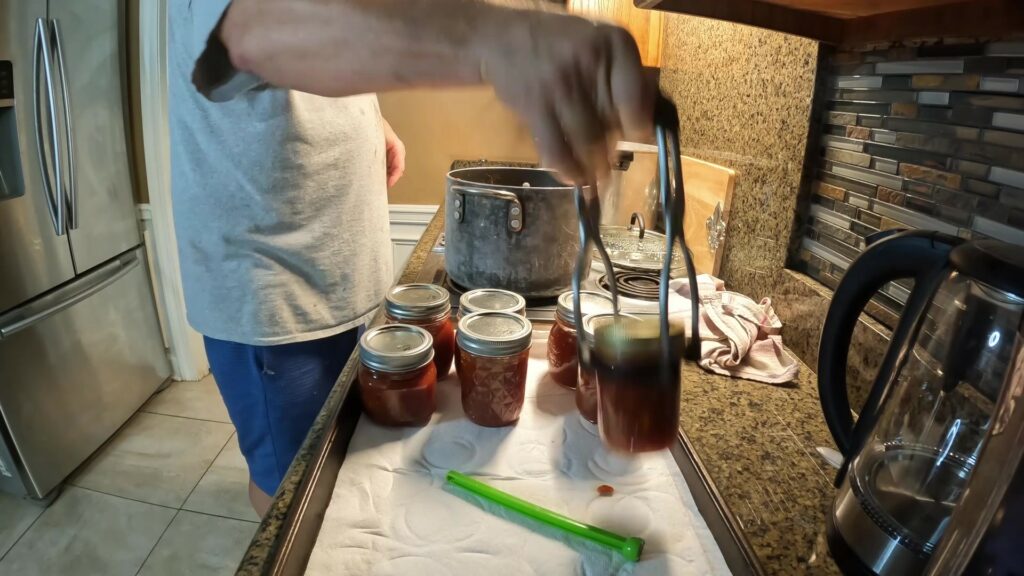 Canned Tomato Jam Recipe Results
I enjoyed a great day of canning and preserving fresh vegetables from the backyard organic raised bed garden. As you can tell, I ended up doubling my canning Tomato Jam recipe and produced around 9 x 1/2 pint jars.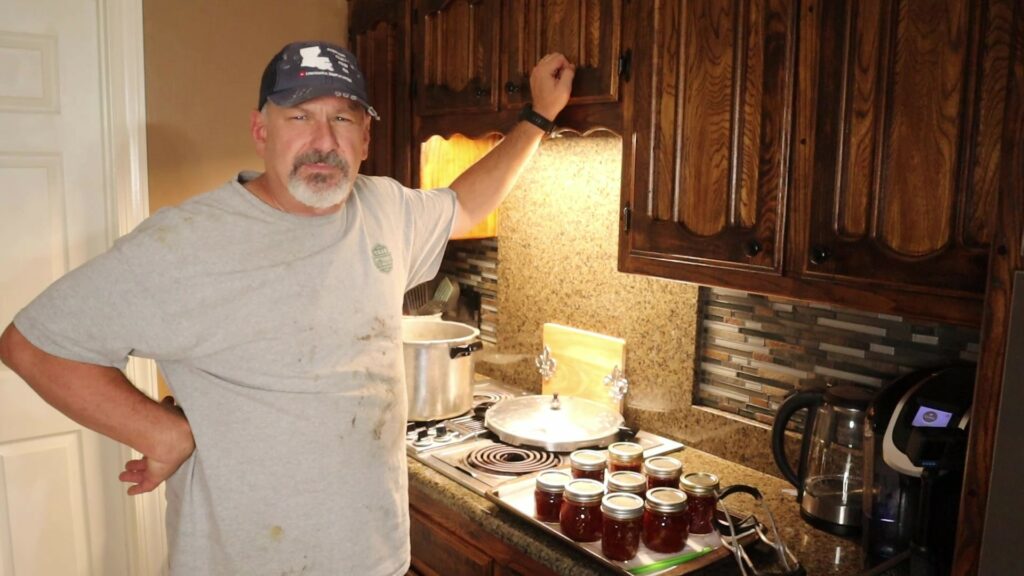 This is sooooo good that you have to try it. Give it a shot and maybe you will really surprise yourself and your significant others with just how good it tastes. It's that good!!!
The Recipe
Tomato Jam
Ingredients
6

cups

Roma Tomatoes, chopped

1

Onion

chopped

1

Pepper, Green

chopped

4

cloves

garlic, minced

1 1/2

cups

granulated sugar

1/4

tbsp

red pepper flakes

1 1/2

tsp

pickling or canning salt

1

tsp

ground cinnamon

1

tsp

ground ginger

1/2

tsp

allspice

1 1/2

cups

vinegar, apple cider
Instructions
You can remove skins from tomatoes if desired by putting an "X" in the bottom with a knife, then dropping them in boiling water for a minute and then remove them to an ice bath. (I personally don't mind the skin so I skip this step)

In a large heavy-bottomed pot, add all ingredients and stir in well.

Bring to a boil over medium heat, stirring often.

Reduce heat and cook for 45 minutes or more until the mixture loses most of the water and can mound up on a spoon.

Ladle the jam into sterilized jars to 1/2" below the rim.

Wipe rims and place on sterilized lids and tighten the rings to fingertip-tight. No need to over tighten.

Process jars in a boiling water canner for 10 minutes ensuing the water is above the jars at least 1".

Take lid off the pot, turn stove off, but leave jars in the water for at least 5 minutes.

Transfer jars to a towel-lined surface and let rest up to 24 hours.

Check jars to ensure they have sealed. Lids should be concave down in the middle.

If sealed, label the jar and enjoy over the next year. Otherwise, you can still enjoy the jam but the jars not sealed needs to be stored in the refrigerator and used in 3 or 4 weeks.
If you like this content, check out the Strawberry Jalapeno Jam recipe post. Please visit YouTube to see the cooking video for the Strawberry Jalapeno Jam recipe and a ton of other great content! Please subscribe as well!