The USDA Plant Hardiness Zone is an important reference for gardeners to understand their climate and how that affects the plants that are grown in their particular location. This article will take a look at the USDA Plant Hardiness Zones in Mississippi, what these zones mean, and provides an understanding of the climate and influencing factors and how that relates to plants.
Mississippi's climate is controlled by three primary geographic attributes. This includes their subtropical latitude, the Gulf of Mexico down south, and the weather patterns of the North American land mass to the north. These attributes all come into play within the humid subtropical climate which is typified by mild winters with minimal periods of below-freezing temperatures.
The summers are generally long, hot, and humid, with no real wet or dry seasons. The north of Mississippi does get a bit colder while the Gulf Coast coastal regions see more heat and rain. The southern regions also sees more affect of tropical weather systems that come into the Gulf during Hurricane Season.
State Boundaries
Mississippi is bordered in the West by the Mississippi River, with Louisiana and Arkansas beyond that. Alabama sits on Mississippi's East side of the state. The Gulf of Mexico and Louisiana border it on the South. And finally, Tennessee represents the northern boundary of the state.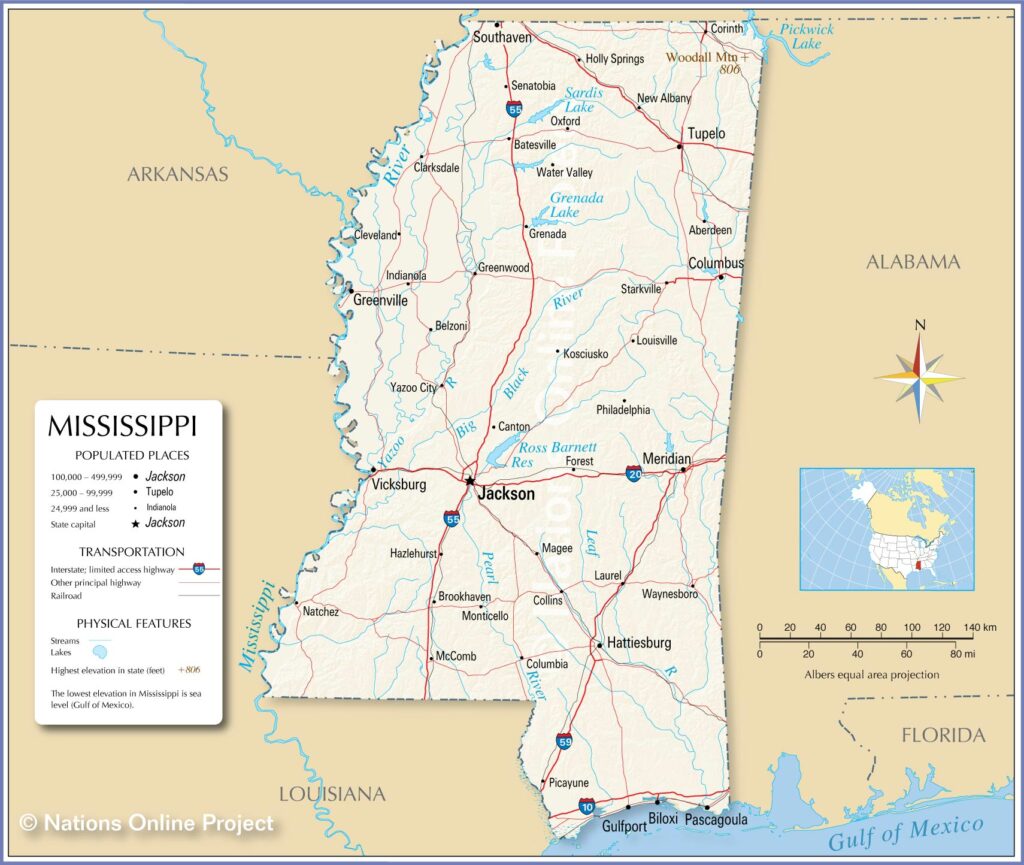 The US Department of Agriculture designates different plant hardiness zones based on the region and climate of the state. These plant hardiness or gardening zones helps to better understand what species of plant to grow in your area. It also helps a gardener better understand plant selection relative to annuals or perennials. Each gardening zone is based primarily on the average lowest temperatures in each specific zone.
If you are wondering what zone is Mississippi for plants, then you are in the right place!
Perennials vs. Annual Plants
Perennial plants regrow every spring, while annual plants live for only one growing season, and then die off. Perennials generally have a shorter blooming period compared to annuals. So, it's common for gardeners to use a combination of both plants in their yard.
Understanding the USDA Plant Hardiness Zone, the climate, and soil types, amongst other factors, gives a gardener a better chance to have a successful vegetable and/or flower garden. Review this article and prepare to do just that.
USDA Plant Hardiness Zones
The USDA (United States Department of Agriculture) has established different plant hardiness zones (USDA planting zones) throughout the United States. The USDA Hardiness Zone maps for the entire country, the South-Central region, and the state of Mississippi are provided below.
USDA Plant Hardiness Zones for the USA
The map below shows the wide range of hardiness zones for all states in the country.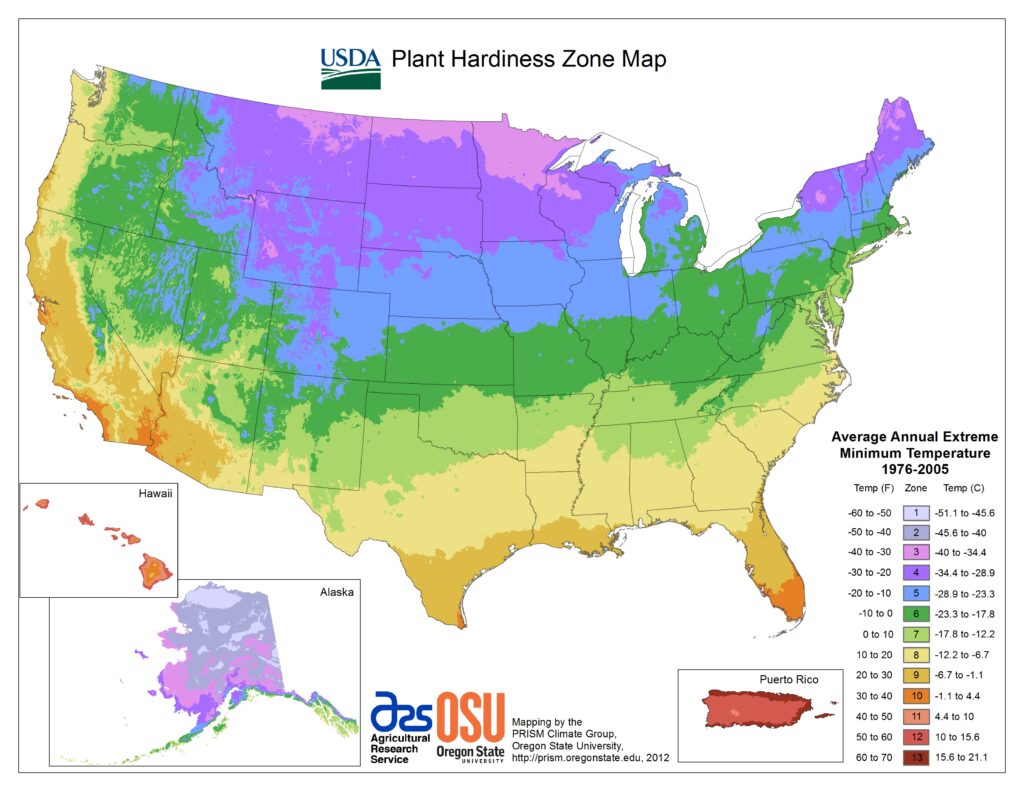 USDA Plant Hardiness Zones for the South-Eastern Region
The Plant Hardiness maps for the South-Eastern region include the states of Tennessee, North Carolina, South Carolina, Mississippi, Alabama, Georgia, and Florida.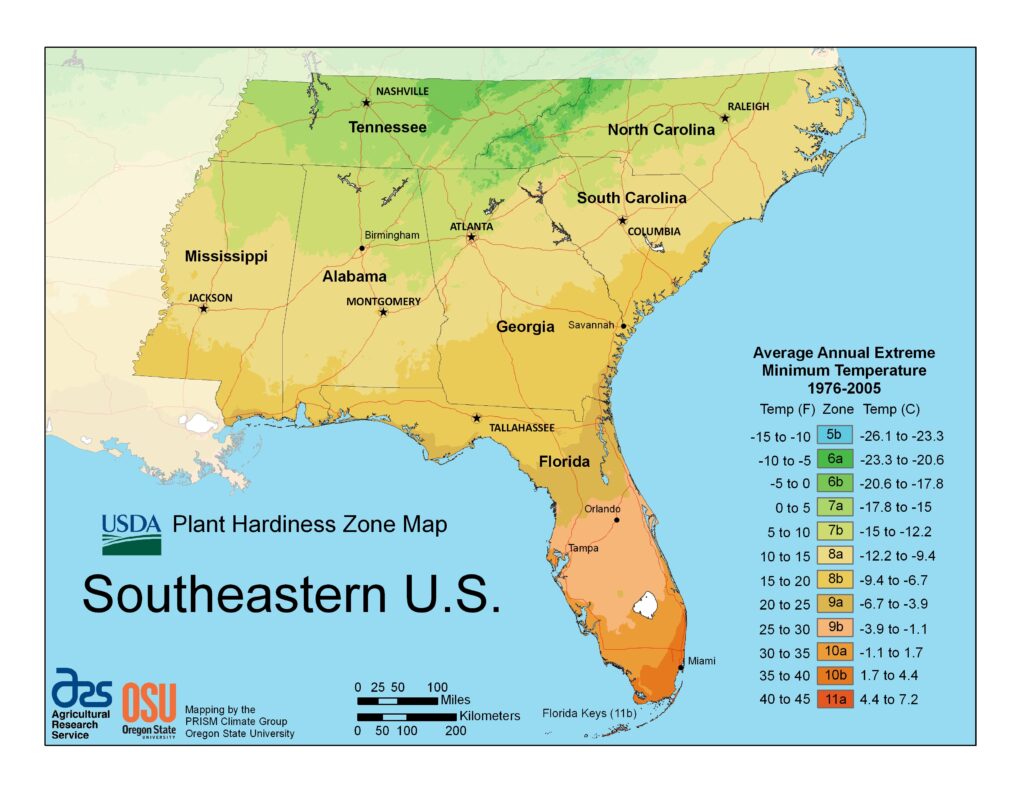 USDA Plant Hardiness Zones for Mississippi
The USDA Hardiness Zone Map for the entire state of Mississippi is shown below.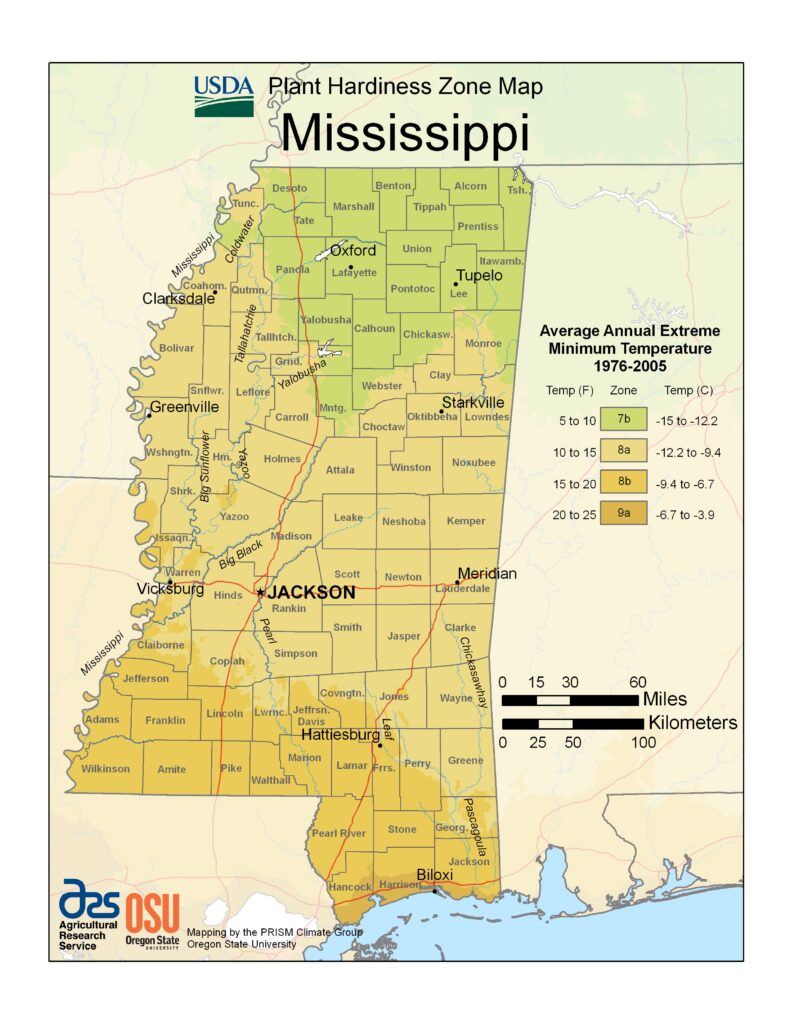 Mississippi Regions in USDA Plant Hardiness Zones
The state of Mississippi contains 82 counties.
As the map above shows, there are 4 distinctly different climates and plant hardiness zones in Mississippi. These zones range from Zone number 7B to 9A. Differences in the average maximum and minimum temperatures, along with first and last frost dates, are all part of the criteria for each USDA Plant Hardiness Zone.
Gardening is Local
Somebody once said that "gardening is local". Each gardener needs to evaluate their soil, climate, or micro-climate, along with the USDA Plant Hardiness Zone, first and last frost dates, and what plants can be hardy enough to survive the extreme winter temperatures experienced in your specific garden location. In some cases, it may be hard to pinpoint if you are in one zone versus an adjacent zone. Think about your "local" conditions to ensure you have a successful garden.
Far North Mississippi (Zone 7B)
Zone 7B is the region at the very top of Mississippi. It includes portions of Desoto, Marshall, Benton, Lafayette, and Lee counties. This also includes towns such as Oxford (home of Ole Miss in Lafayette County) and Tupelo (in Lee County). The average annual extreme minimum temperature is 5 to 10 degrees F (degrees Fahrenheit) in USDA Zone 7B.
Central Mississippi (Zone 8A)
Zone 8A represents mostly central northern counties including Warren, Hinds, Oktibbeha, and Lauderdale, among other central Mississippi Counties. Towns include Vicksburg (Warren County), Jackson (Hinds County), Starkville (Mississippi State in Oktibbeha Country), and Meridian (Lauderdale County), among others. The average minimum temperature is 10 to 15 degrees F in USDA Zone 8A.
Lower Mississippi (Zone 8B)
Zone 8B represents mostly southern counties including Wilkinson, Amite, Pearl River, Forest, and Stone, among other southern counties. Towns include Hattiesburg (in Forest County), and borderline with Pascagoula (in Jackson County), among others. The average minimum temperature is 15 to 20 degrees F in USDA Zone 8B.
Gulf Coast Mississippi (Zone 9A)
Zone 9A represents the far south portions of a few counties directly on the Gulf of Mexico's coast. These counties include Hancock, Harrison, and Jackson counties. Towns include Gulfport (in Harrison County), Biloxi (in Harrison County), and borderline with Pascagoula (in Jackson County). The average annual extreme minimum temperature is 20 to 25 degrees F in USDA Zone 9A.
Mississippi Climate
Climate covers everything from averages to extremes of meteorological variables including temperature and rain. The Koppen climate classification gives information about these climate conditions.
Koppen Climate Classification
Climatologist Wladimir Köppen has classified the entire state of Mississippi as having a humid subtropical (Cfa) climate classification. In general, you may expect warm-to-hot summers and cold-to-mild winters. A humid subtropical climate is classified as having a mild climate with a hot summer but no specific dry season. However, Mississippi can experience periods of drought and flood.
Prevailing winds off the Gulf of Mexico provide moisture causing high humidity and overbearing heat from May through September. High winds and lightning storms are a threat on an average of 60 days each year.
Tropical systems, such as hurricanes, bring a threat to the state year after year during hurricane season. In fact, eight "named" hurricanes have made a direct strike on the Mississippi coast since 1895 causing massive damage.
Temperatures
Normal mean annual temperatures range from 62F in the north to 68F along the coast. Low temperatures have dropped to 16F below zero while high temperatures exceed 90F over 100 days each year. Temperatures routinely exceed 100F at many places in the state each year. They drop to zero or lower an average of once in five years in the state. Average precipitation ranges from about 50 to 65 inches across the state from north to south.
Annual Precipitation
The average annual rainfall for Mississippi is 55.95 inches per year. Mississippi is the second or third wettest state (depending on what statistics you look at) in the United States. The averages do range across the different sub-climates in the state. The rain amounts tend to go up as you go further south especially as you get close to the Gulf Coast portions of the state.
Measurable snow or sleet falls on some parts of the state in 95% of the years but is much more common in the upper portions of the state.
What Affects Climate in Mississippi?
Many things affect climate, and micro-climates within local areas as well. It said that gardening is local and that sure applies to Mississippi gardens.
General Climate Impacts
Climates generally are affected by:
Latitude: Temperature range increases with distance from the equator
Altitude: Temperatures decrease with height as the air is less dense and cannot hold heat as well
Winds: Winds blown in from a hot area can raise temperatures
Humidity: Moisture in the air has an impact on how people and plants feel the effects of temperatures.
Distance from the sea (continentality)
Exposure: If trees, structures, or other factors cause shade, block the wind, etc.
State Geographical Climate Impacts
The topography of the land and its closeness to the Gulf of Mexico to the south and the western plains to the west all influence the state's climate. Hotter humid air blows in from the south and interacts with the cooler drier air coming over the Rocky Mountains in the west. This results in strong, low-pressure areas that lift the moisture which produces storms. Winters are relatively mild with the coldest areas in the northern portion of the state.
All of these factors come into play in understanding the climate and ultimately, the plant hardiness zones and whether a plant will survive as a perennial or annual.
First and Last Frost
The only real factor that matters when determining the USDA growing zone of a region is its extreme temperature lows. Use the average annual minimum winter temperature while looking at the temperature requirements of your plants to determine whether it is a good fit for your climate. That's the first step.
The second step is to determine your particular area's first and last frost date projections based on your city name or Zip Code. There are many sites to check this such as the Farmer's Almanac.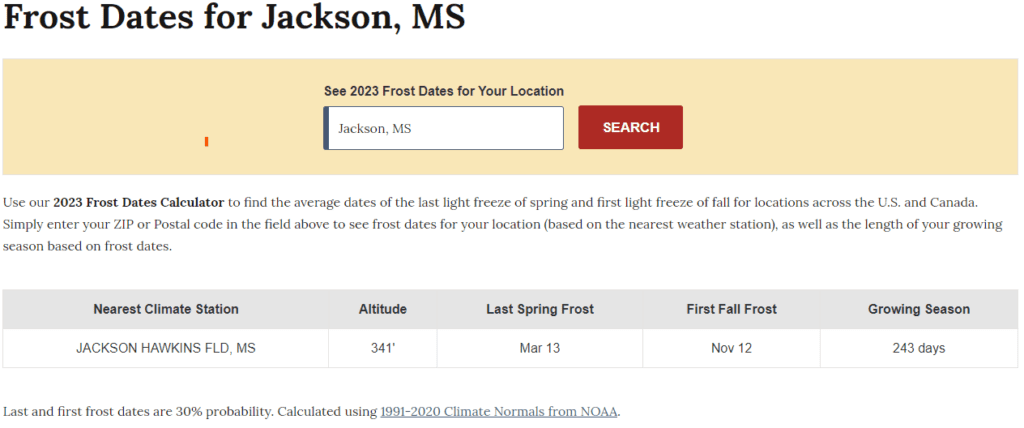 Next is a determination, if an annual, as to when you can plant the plant or sow the seed based on the first and last frost date, along with time to maturity. For example, the latest sow date for a plant that gets to maturity in 70 days, must be sowed at least 70 days before the first freeze date to get a harvest in before the plant is damaged by the first frost. Conversely, you do not want to plant a seedling or sow seed before the last expected frost date in the late Winter or early Spring.
An important concept is to understand the projected first and last frost dates are merely a projection based on historical climate data. The example above by the Farmer's Almanac uses a 30% probability factor when determining the projected dates. That means there is some limited risk with planting out seedlings in your garden based on this date as Mother Nature will decide if it wants to follow these dates or not.
Growing Seasons
The growing season represents what portion of the year you can grow. It refers to the number of days between the last frost of the Spring and the first frost of the Fall. This is the part of the year when the weather conditions are conducive to good plant growth based on temperatures and rainfall. Mississippi, due to its climate, has a long growing season.
The growing season in Mississippi is a long one from mid-April to late October. On average, Mississippi has approximately 205 days between the last and first frost. Your zones in the southern portions of the state are going to experience a longer growing system than those in the North, but generally around 205 days for the state.
Gardening in Mississippi is very much a year-round affair, regardless of the climate. There are hardy plants, perennials, and annuals that do well even in the coldest or hottest months of the year. There are several perennials, especially native plants, that can grow and thrive year after year.
Soil Types in Mississippi
In Mississippi, there are several major soil resource areas. The predominant soils and composite vegetation define major ecoregions across the state. These are the Delta, Loess Hills, Upper Coastal Plain, Blackland Prairie, Lower Coastal Plain, and Flatwoods.
Delta
The Mississippi River had been overflowing it's banks for thousands of years before the great levee systems were constructed. The historic floodplain in the Delta region of west Mississippi has soils that are moist to wet, with medium to heavy consistency. A bottomland forest of cypress and oak was predominate before the region began clearing for agriculture in the mid-1800s. Most of the Mississippi delta region is now an agricultural area growing primarily soybeans, cotton, wheat, and rice.
Loess Hills
Loess hills were formed from windblown glacial outwash 10,000 to 12,000 years ago. These are highly silty upland soils that are deep, well-drained, and fertile. Forested areas are the majority but some agricultural production does occur including mostly cotton, corn, soybeans, and wheat.
Upper Coastal Plain and Interior Flatwoods
The northeastern portion of the state includes the Upper Coastal Plain and Interior Flatwoods major soil regions. The soil here is generally older and less fertile than those in the western portion of the state. These lands are populated with loblolly and shortleaf pines and a variety of upland and bottomland oaks. Crops grown in this region include soybeans, corn, peanuts, and vegetables.
Blackland Prairie
The Blackland Prairie region is interspersed within the Coastal Plains. These soils cross throughout the northern and central portions of the state. The Blackland Prairie soil then to have a more alkaline soil pH.
Lower Coastal Plain and Coastal Flatwoods
The Lower Coastal Plain and the Coastal Flatwoods are located along the coastal regions. This soil tends to be sandy and wet with low fertility. Forest cover 90 percent of the area with longleaf pine, slash pine and live oak forests. These trees have had to adapt to tropical weather and salt spray.
Soil Sampling and Analysis
It is important to understand the local garden's soil type, especially if using conventional rows or soil that's in-ground. If you have never checked, it's a good idea to get your soil analyzed to understand what amendments may be needed.
Mississippi State University Department of Agriculture offers a program where samples can be submitted and a report of the soil analysis and recommendations is offered. Soil sample boxes are available for Mississippi residents at their local Mississippi Extension Service offices located in each county (https://extension.msstate.edu/county-offices).
The soil analysis program has more value for those backyard gardeners using in-ground soil. There are a variety of well-balanced raised bed soil mixes available commercially or a prescriptive soil mix that can be put together DIY-style such as Mel's Mix (made famous from Square Foot Gardening).
The Right Plants for Mississippi and Your Zone
Selection of Plants
Selection of each particular plant is an exercise of understanding the seeds or seedlings you may be purchasing and which Zones are recommended. You can usually find this on the back of a seed packet or a plant's label. If purchasing plants or seedlings from a local plant nursery, you can generally assume that they offer plants suitable for the plant hardiness zones in that area. Purchasing from a big box store may need a little bit more scrutiny.
Perennial Plants
As for perennial plants, one of the best sources is to identify the native plants found in and around the local area. These native plant species are tested and proven to be hardy plants or they would not be long-lasting or considered native to the area. Many perennial plants are knocked back when there is a hard freeze. However, they will come back next Spring.
Hot and Cold Impact on Plants
One would think looking at the USDA Plant Hardiness zones, that the coldest extreme temperatures are the only consideration for hardy plants. However, some warmer areas with extreme summer heat also have a significant impact on what plants will thrive, including trees, shrubs, ground cover, etc.
Mississippi's hot summer climate may tempt you to select plants that are more accustomed to drier or more drought-like climates. This would not be a good choice as most plants adapted to a dry climate will eventually rot and die during periods of heavy rainfall that portions of Mississippi's climate tend to experience.
Mississippi City Highlights
Mississippi, the 2oth state, was admitted to the Union on December 10, 1817. Let's explore a brief history and what USDA Plant Hardiness Zones are for a few key cities.
What USDA Plant Hardiness Zone is Oxford?
The city of Oxford is located in the northern part of Mississippi, in Lafayette County, about 75 miles south of Memphis, TN. Oxford is the 14th most populated city in Mississippi with a population of over 25,000 people. Oxford is very much a college town with the University of Mississippi (Ole Miss) located there.
Pioneers purchased the land in the area from the Chickasaw and founded the town in 1837. The name "Oxford" originated from the same named town in England.
Oxford is 26.7 square miles in size within the city limit. The Ole Miss campus sits in an unincorporated area surrounded by the city.
Oxford is in USDA Plant Hardiness Zone 7B.
What USDA Plant Hardiness Zone is Starkville?
The city of Starkville is located in the central-eastern portion of Mississippi, in Oktibbeha County, about 30 miles west of the Alabama State Line. Starkville is the 17th most populated city in Mississippi with a population of over 25,000 people.
Starkville is a college town with Mississippi State University (MSU) being located there. MSU is located partially in Starkville in an adjacent unincorporated area. Mississippi State University is a public research and land-grant university.
The Starkville general area in Mississippi has been inhabited by indigenous communities for over 2,100 years. Native American tribes, including Choccuma, Choctaw, and Chickasaw, inhabited the area prior to pioneers settling into the area. The Choctaw community surrendered their claims to the land in the area in the Treaty of Dancing Rabbit Creek in 1830. Most of the Native Americans were forced to give up their land and move West of the Mississippi River during the 1830s.
The settlers were drawn to the area due to two large springs. The town's original name, Boardtown, was given in 1834 as there was a mill that produced clapboards. In 1835, the county seat of Oktibbeha County was established in Boardtown but was renamed in honor of Revolutionary War hero John Stark.
Starkville is located in USDA Plant Hardiness Zone 8A.
What USDA Plant Hardiness Zone is Jackson?
Jackson, MS is the largest city in Mississippi located in the central portion of the State. The city had a population of over 81,969 residents and the Jackson metropolitan area had a population of close to 150,000 in 2023. There is also another area of statistics in the Jackson Metropolitan statistical area and it had a population of close to 600,000. This equates to nearly one-fifth of Mississippi's pollution.
Jackson State University is located in Jackson. The school was originally founded in Natchez, MS, The school subsequently moved to Jackson, MS, and was renamed Jackson State University in 1956.
The city was founded in 1821 and named after General Andrew Jackson for his role in the War of 1812. General Jackson also went on to serve as the president of the U.S. The town was under siege and ultimately burned by General William Tecumseh Sherman's Union forces following the American Civil War's Battle of Vicksburg in 1863.
Jackson, MS, is located in in USDA Plant Hardiness Zone 8A.
What USDA Plant Hardiness Zone is Biloxi?
Biloxi, MS, located in Harrison County, sits on the Gulf of Mexico coast adjacent to Gulfport, MS. Biloxi has a population of close to 50,000 making it the 4th most populous city in Mississippi. The Gulfport-Biloxi Metropolitan area is home to over 400,000 residents.
Biloxi shares a unique geographic fact with some other coastal cities. Directly off the sandy beaches is the Mississippi Sound with a number of barrier islands sitting offshore. The barrier islands off the coastline of Mississippi include Cat Island, Ship Island, Deer Island, Horn Island, Round Island, and Petit Bois Island.
Biloxi, MS, is home to the Keesler Air Force Base which resides within the city and is home to the 81st Training Wing and the 403d Wing of the U.S. Air Force Reserve.
It is in USDA Plant Hardiness Zone 9A.
Conclusion
The state of Mississippi has 4 separate U.S. Department of Agriculture Plant Hardiness Zones starting at 7B at the very top of the state down to 9A at the bottom of the state. These plant hardiness or growing zones are used as a reference for gardeners to better understand what species of plant can be grown successfully, either as an annual or perennial, in each plant zone.
Mississippi, with its warm, humid climate, gives us gardeners a long season to grow and harvest our favorite crops from our vegetable garden. The USDA Plant Hardiness Zones in Mississippi gives everyone a resource to better understand selection of plants and to help achieve a bountiful harvest.
If you like this content, make sure you check out my 7 Reasons to Start a Garden or my Seeding Square Template post. Also, I'm sure you will enjoy checking out my Louisiana Simple Living YouTube channel where I focus videos on teaching about raised bed gardens and achieving bountiful harvests.