Join Louisiana Simple Living as I build a DIY apartment balcony herb garden planter for my daughter's balcony. She is moving into a 3rd floor apartment. She wants to be able to grow some herbs, lettuce and flowers on her balcony so I custom built a planter for that purpose. I built it from cedar so it will last a long time. I delivered it to her apartment and placed some soil in it, along with a Rosemary plant I had in my backyard garden. This is an easy project and one you can easily do yourself!!
I didn't have any pre-set designs so decided to venture out on my own to design a planter box that fitted within the dimensions given for my daughter's apartment balcony. This is my initial drawing for the design and used that as a template.
The Design/Lay-out
The design has 3 boxes, supported by 3 arms, and a post.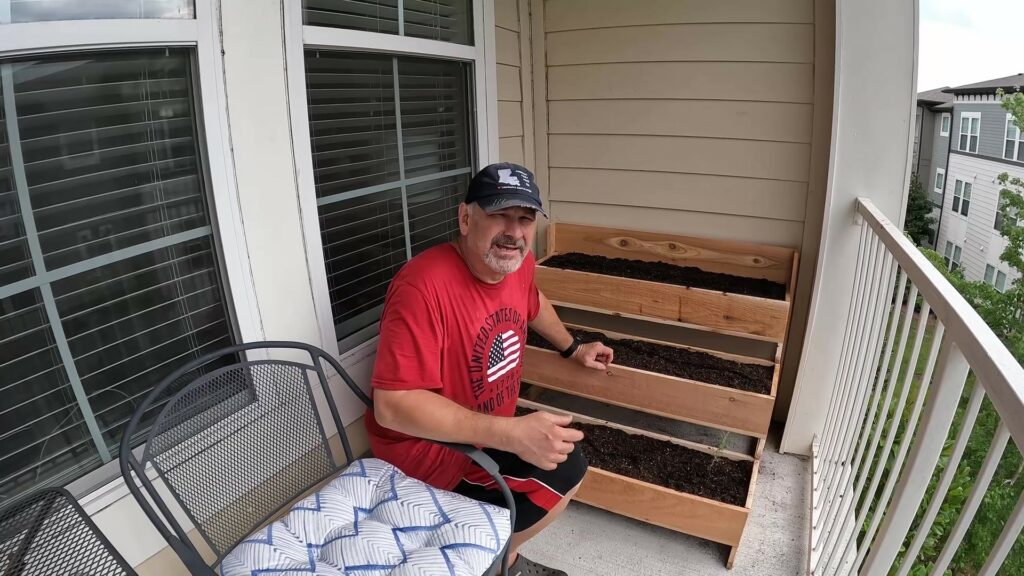 The Inside perspective shows the arms go all the way to the edge of the post. On the front side, the 2nd and 3rd arm sits on 3/4″ on the box below giving it great support. It's really a simple design and is robustly strong yet fairly light weight.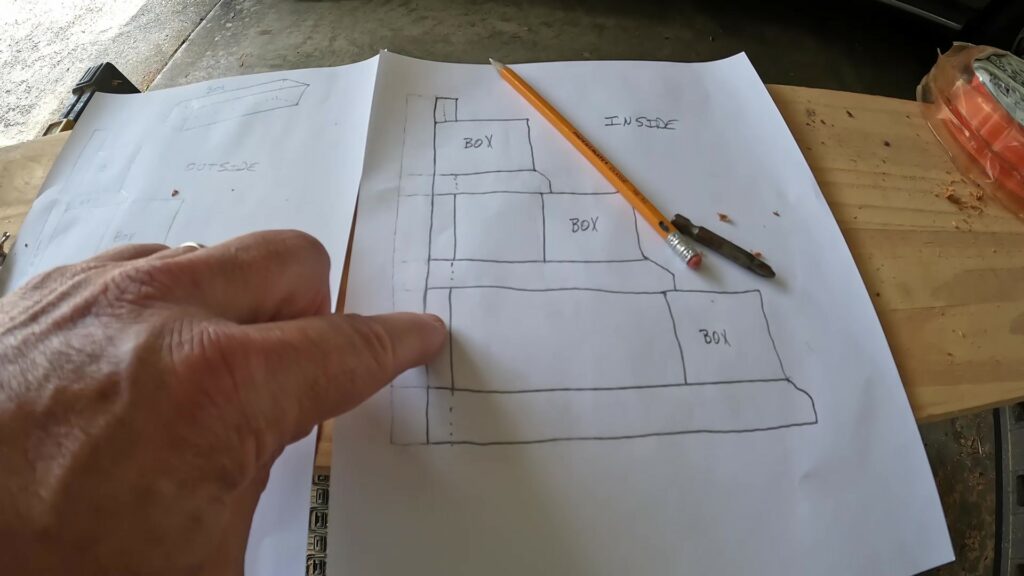 Building the Boxes
Here I'm using the Kreg pocket hole drill bit to prepare the box for joining the boards using the Kreg pocket screws. The boxes are 42 inches long and the bottom is two of the 3/4″ x 6″ x 42″ joined together.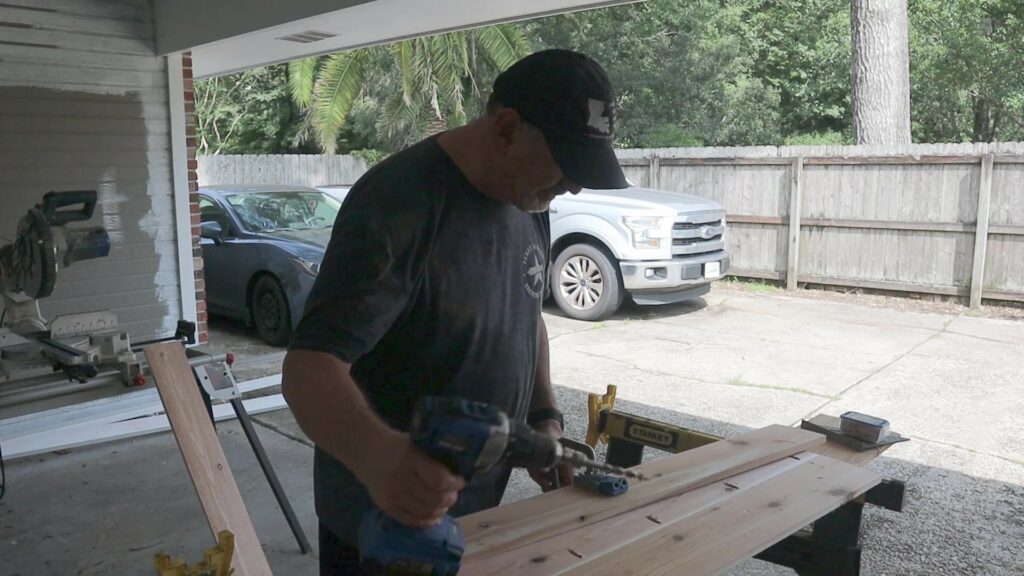 Here I'm using the kreg pocket screws to create a rock-solid connection for the boxes. I extensively used the Kreg pocket jig tool to create a strong connection between each piece of cedar. It really does a great job!!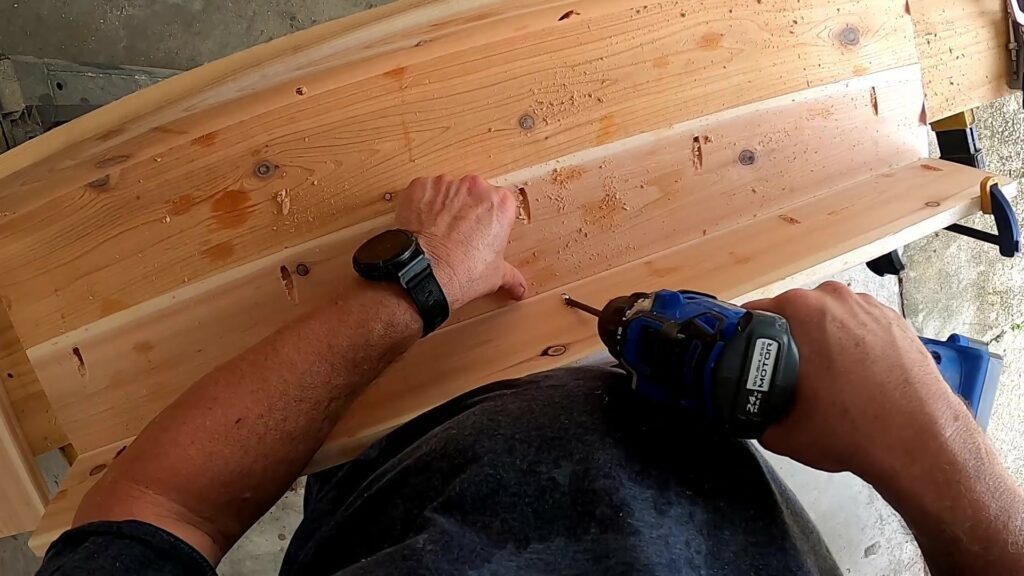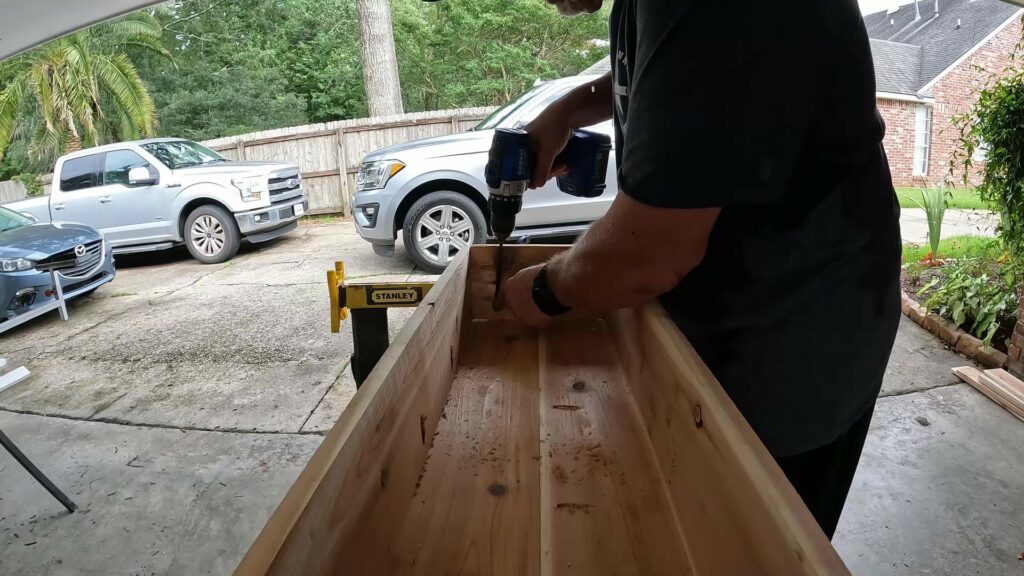 Check out the Kreg pocket-hole screw jig to do any kind of woodworking you may do!!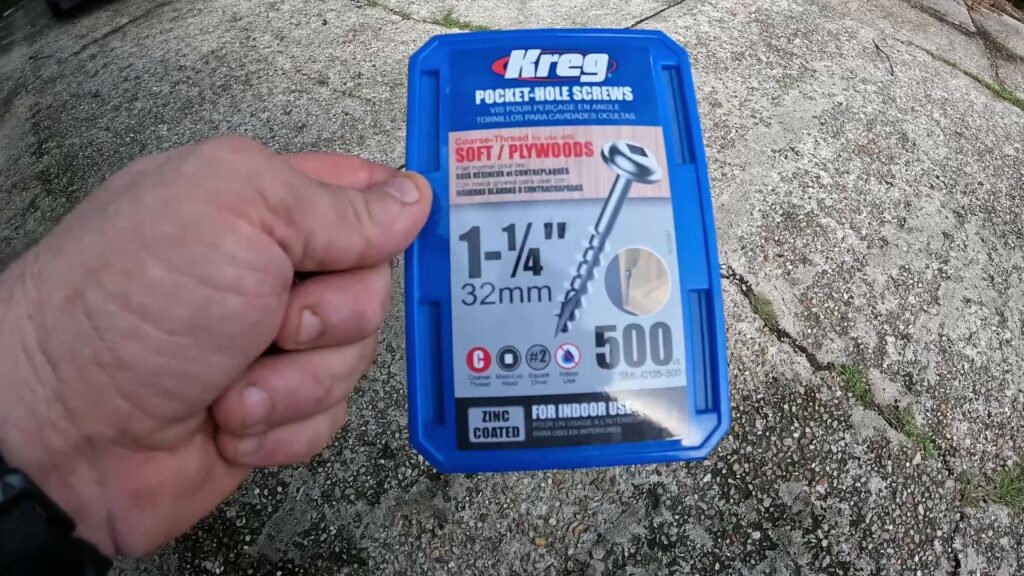 Building the Posts and Arms
The 6″ boards are actually 5 1/2 " nominal. I spilt those in half to get boards that were 2 3/4″ wide. I used these for the posts and for the arms.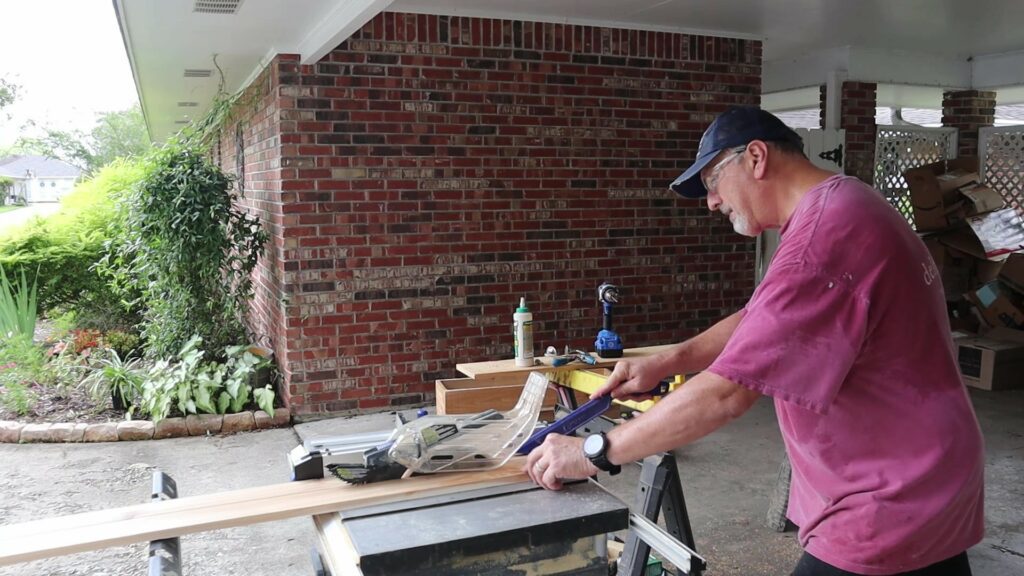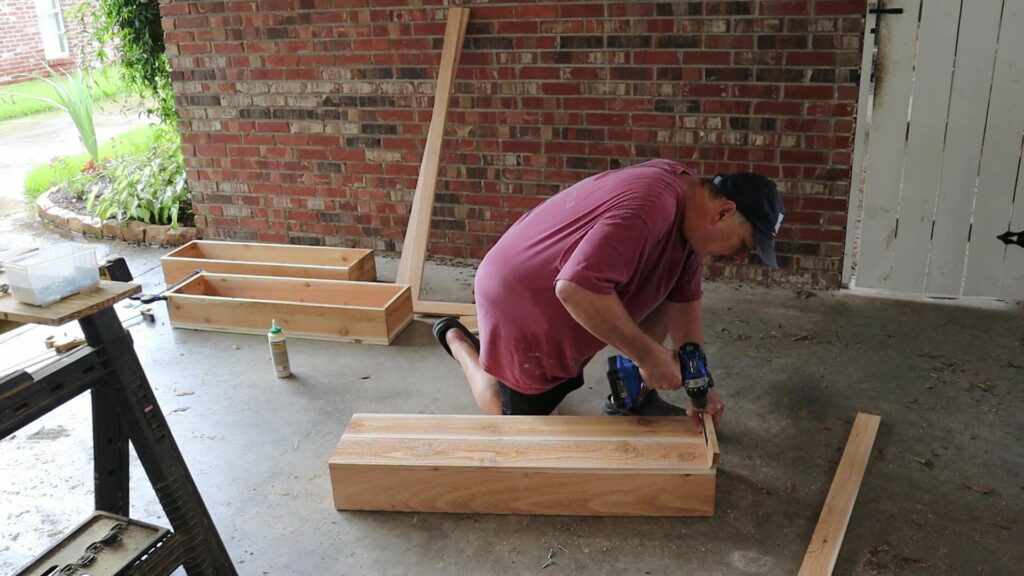 Here, I'm connecting the post to the bottom arm. I countersunk the holes, added some glue, drilled them then sunk 1″ #10 screws to secure each joint.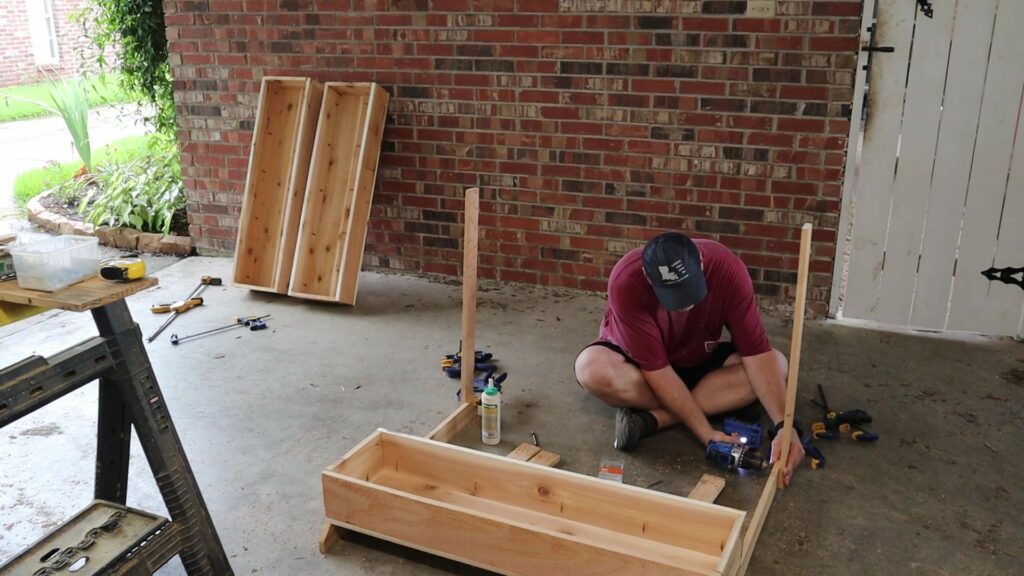 Here I am securing the arm to the box down below. There is a 3/4″ overlap between the arm and the box below.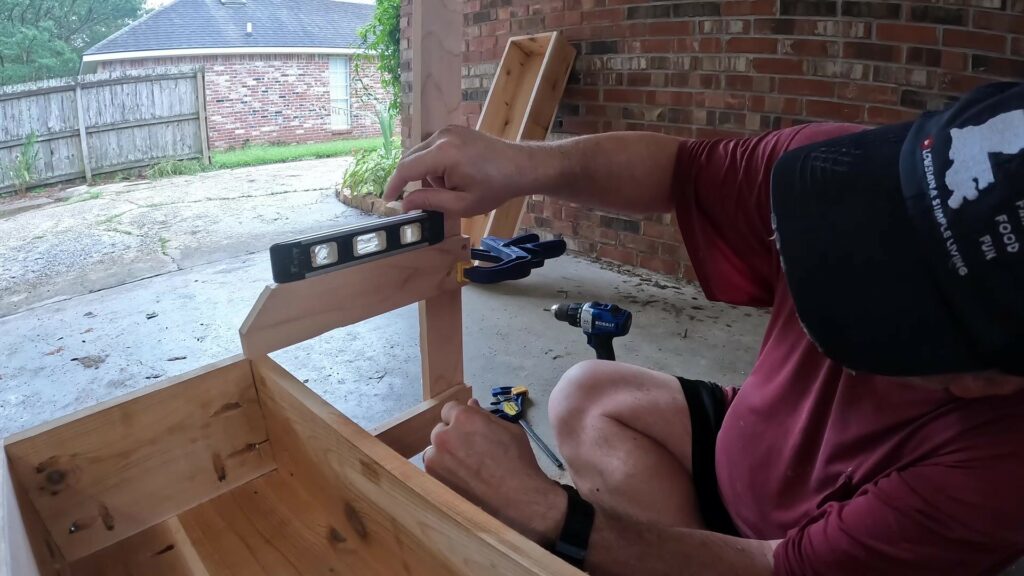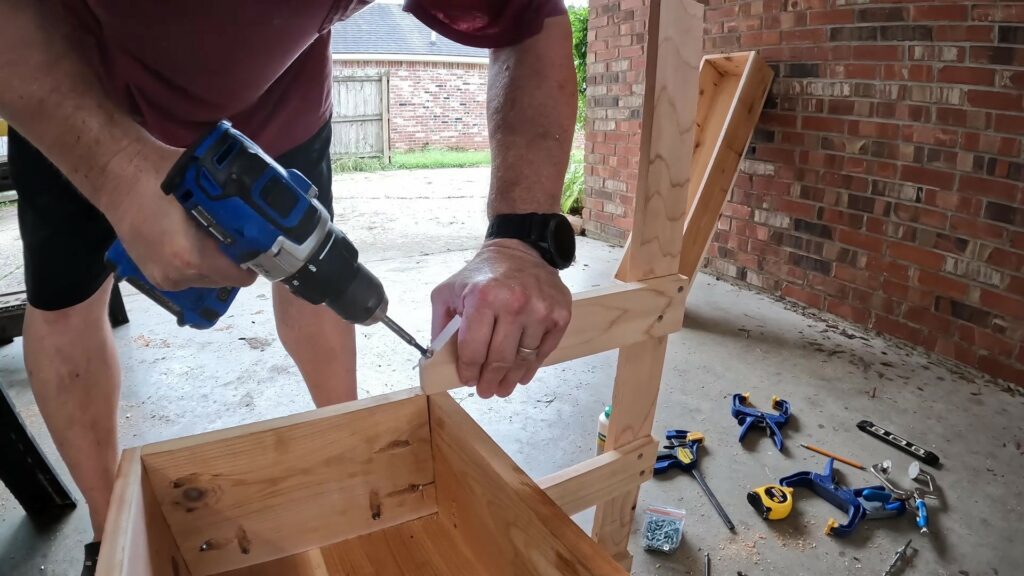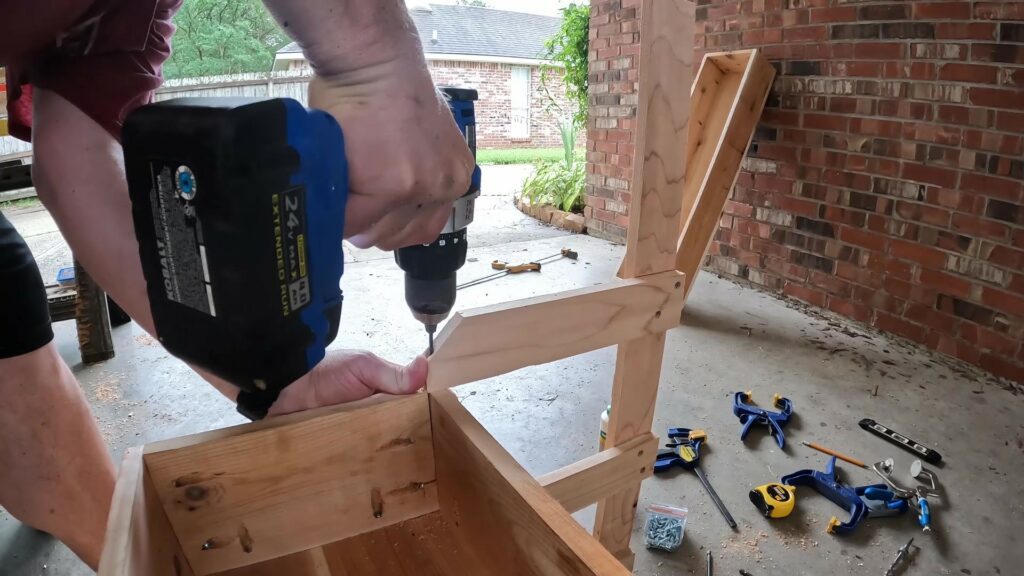 Performing fit-up with the top arm where the top box sits on the top arm.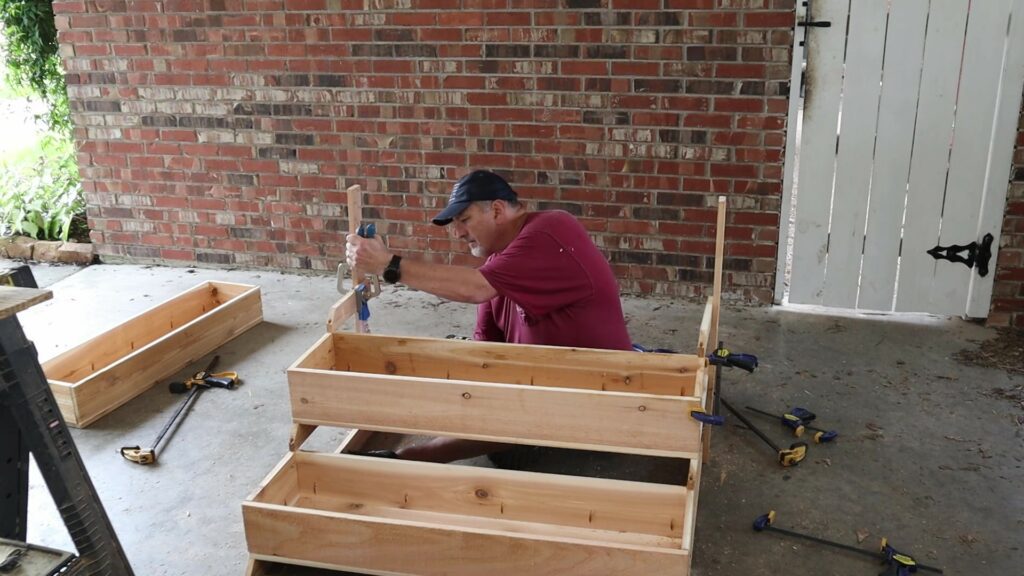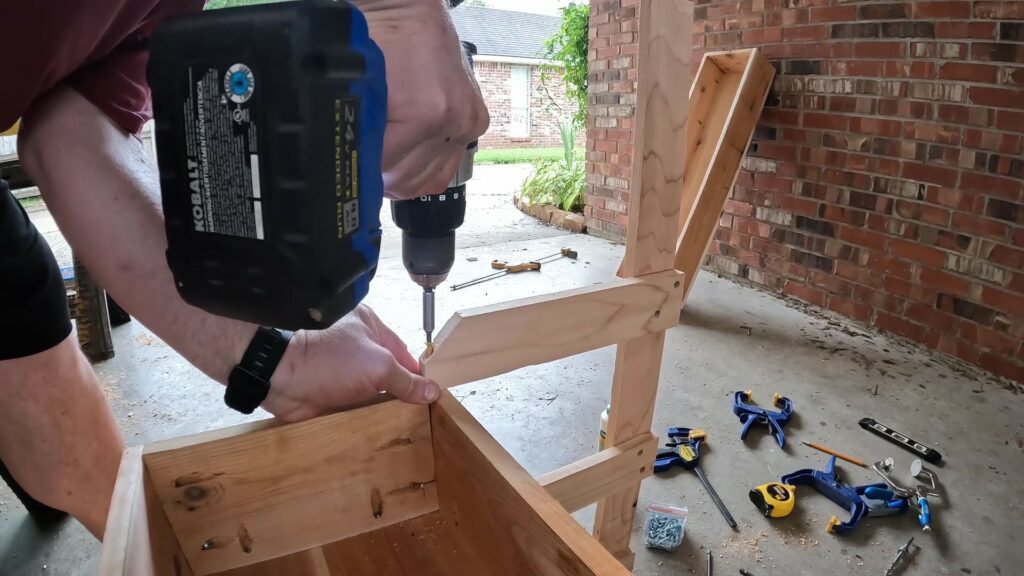 A last step was to go ahead and drill some drainage holes in the bottom of the boxes.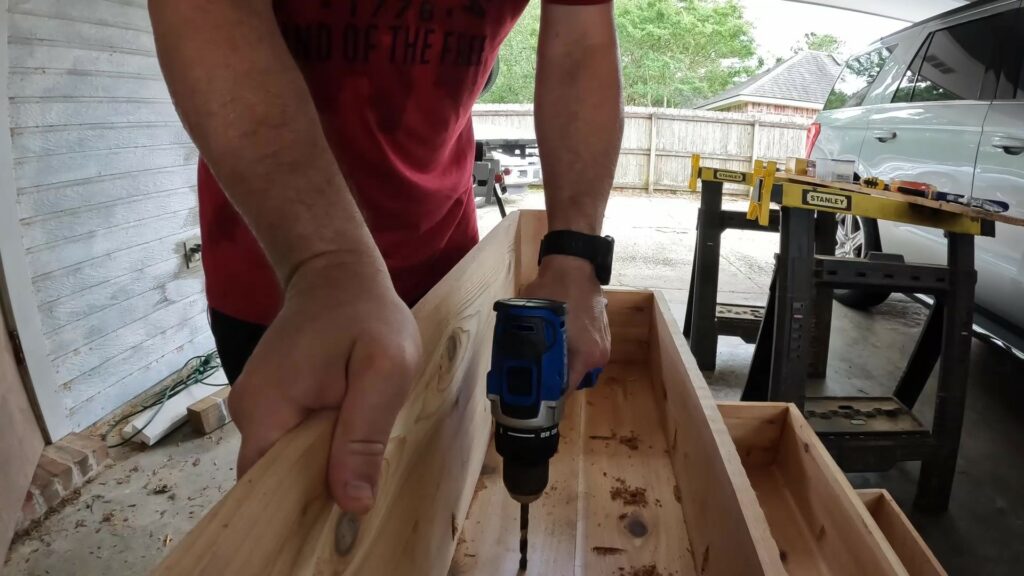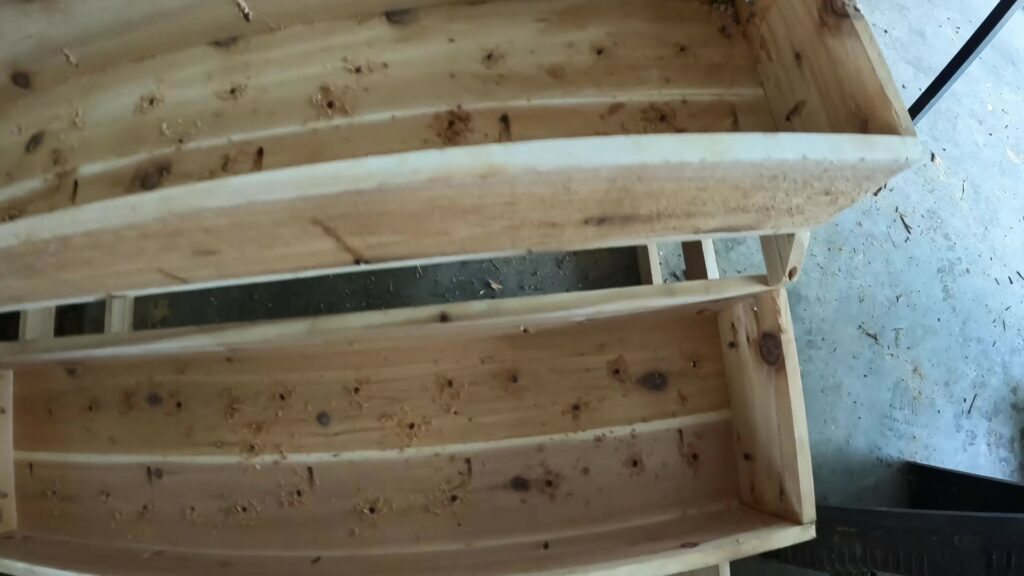 Installation Time
I brought the planter up a couple of flights of stairs. Needless to say, it was getting a little heavy at this point. But all kidding aside, the planter is surprisingly pretty light-weight yet extremely robust. I'm impressed but a bit biased as well, LOL.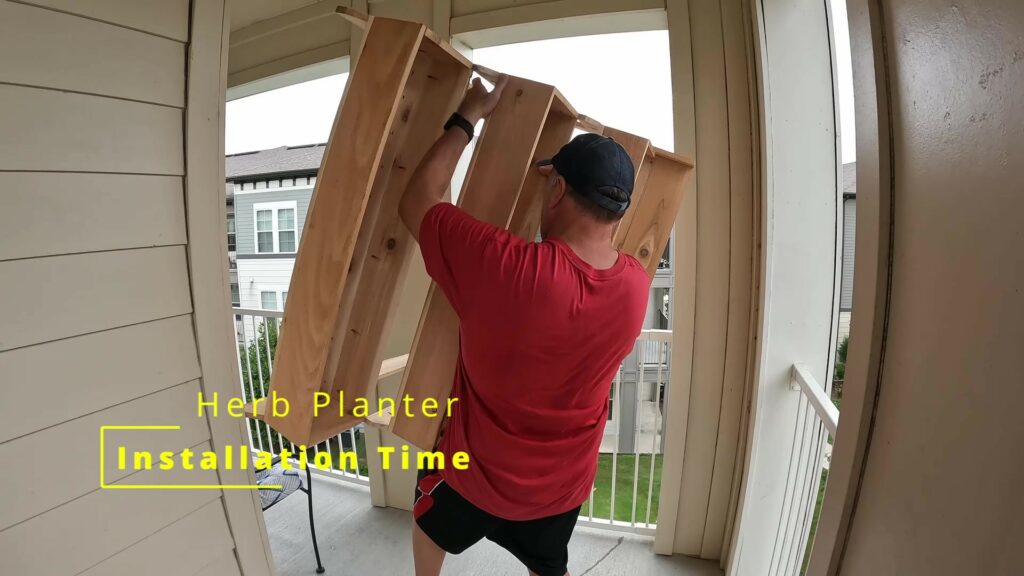 I lined the bottom of the boxes with some weed-guard material to keep the soil from leaking out the drain holes when watering. This works well for this.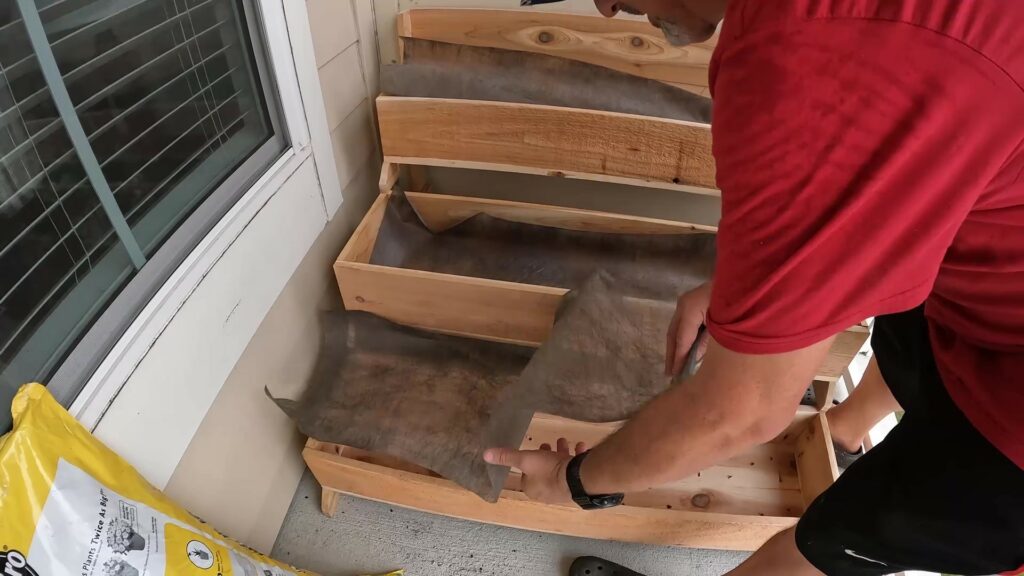 I'm putting in some Miracle Grow soil for the initial loading of soil. It does give some level of nutrients for up to 6 months.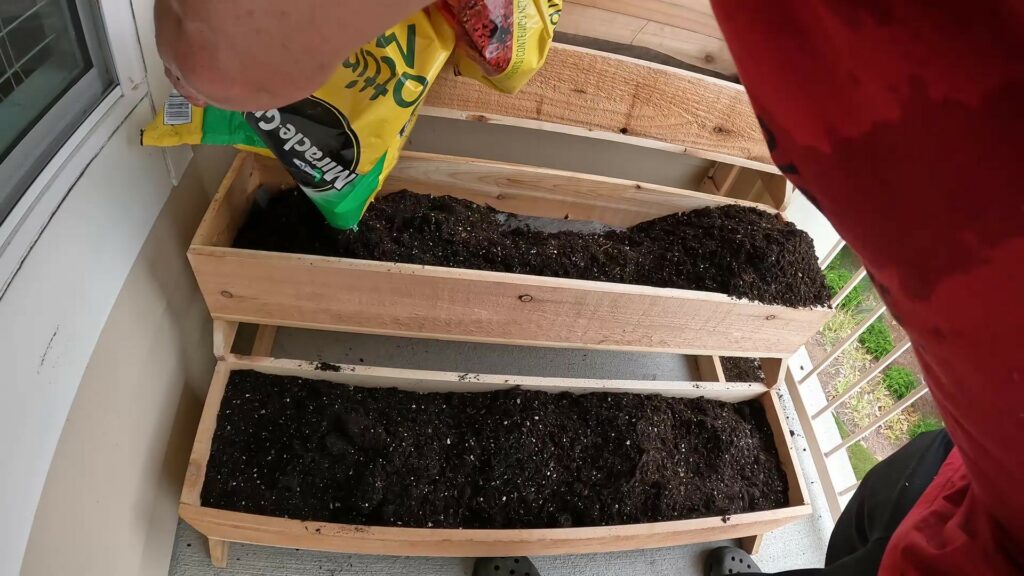 I brought over a rosemary plant I had in my backyard garden to give them a jump start. They will decide if they want to sow some seeds or run over the Clegg's Nursery to get some plants.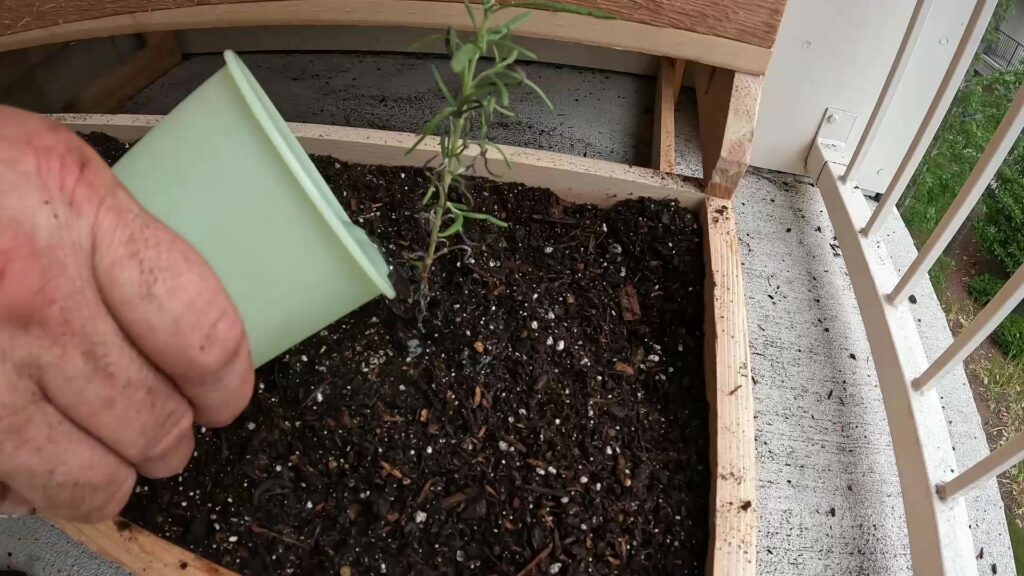 Finally got it loaded with dirt, got the Rosemary planted, and they are ready to go with growing some herbs, lettuce and flowers on their apartment balcony. Others will be so jealous!!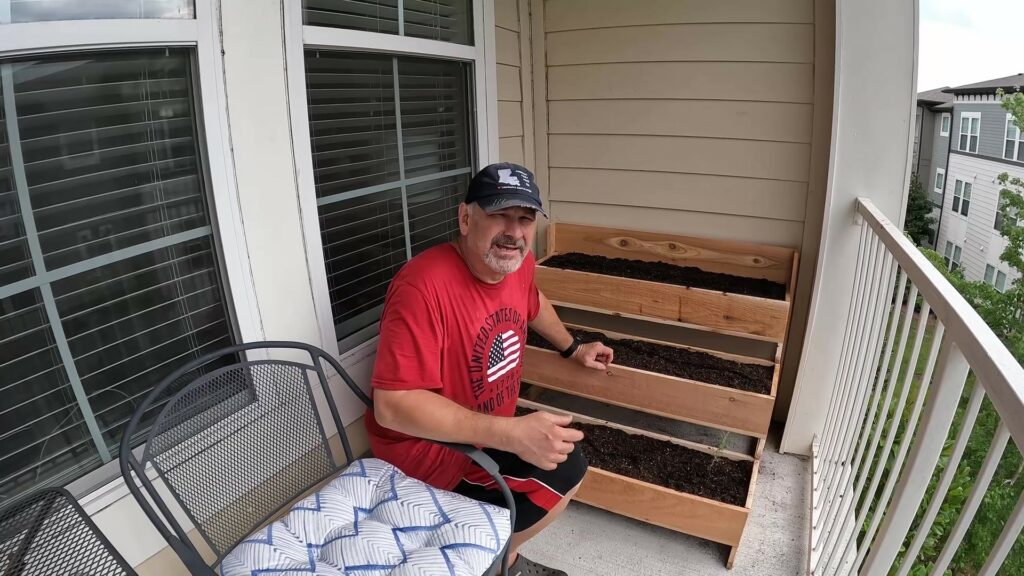 Please see the cut list below:
I used 9 each 3/4″ x 6″ x 8″ cedar boards I would recommend cutting a little bit long to fit up. You can always trim but you can't add on.
Boxes:
6 each 3/4 x 5 1/2 x 42 for sides
6 each 3/4 x 5 1/2 x 9 5/8 for ends
6 each 3/4 x 5 1/2 x 42 for bottoms
Arms:
2 each 3/4 x 2 3/4 x 12 3/8 (top arm)
2 each 3/4 x 2 3/4 x 24 (middle arm)
2 each 3/4 x 2 3/4 x 35 3/4 (bottom arm)
The arms will need a 45 deg cut starting at 1 1/2 back from right end. Arms front end for upper and middle arm will overlap box below by 3/4″
Post:
2 each 3/4 x 2 3/4 x 31 3/4
Top:
If you liked this post, check out some of my other YouTube DIY content. Check out my Easy Rustic Headboard DIY Build post as well. See my DIY playlist on my Louisiana Simple Living YouTube channel.