Everybody knows earthworms work great on a hook when fishing. But, have you ever thought about whether earthworms or worms in general, in your garden soil, are bad for your plants?
In reality, most worms are excellent to have in your garden bed, or container, for your plants and in your compost pile. However, there are a few harmful or bad worms that are not. For most, worms in your soil are a good thing. Let's take a look at the benefits of worms, along with the different species of worms you can normally find.
According to the USDA, perhaps no other living organism in the soil is as important as an earthworm in helping to increase soil health. They are affectionately called the "original farmer". Therefore, earthworms play a critical role in our soil quality which directly leads to better plants and a bigger harvest. The benefits of earthworms in garden soil are profound.
Benefits
Are Worms in your Garden Soil Bad for Your Plants? Worms provide many benefits to soil so lets talk about that.
How do worms help the garden?  What are the benefits of worms in garden soil?  Good worms, like red wigglers,  increase soil aeration, infiltration, and structure, along with nutrient availability, improved drainage, and plant growth.  These benefits are realized whether in an in-ground bed, raised bed garden, or even containers.  They may also be found in smaller potted plants or even in a potting soil mix.
EARTHWORMS (PEXELS)
Improved Nutrient Availability
Earthworms break down dead and decaying organic matter into rich humus soil, thereby supporting plant growth. Their digestive system concentrates the organic and mineral components in the feed they eat. That means their castings end up being richer in available nutrients than the soil around them. Earthworm castings contain nitrogen, phosphorus, potassium, and magnesium which increases soil fertility. Nitrogen in castings is readily available to plants. Earthworm castings also contain microorganisms which increase in abundance as organic matter is digested in their intestines. The cycling of nutrients from organic matter and the increase in microorganisms facilitates plant growth.
Improved Drainage
When they move through the soil eating, earthworms create channels or burrows. This loosens and aerates the soil and improves soil drainage. Soils with earthworms drain up to 10 times faster than soil without night crawlers. In raised beds, where worm populations are typically higher, water infiltration can be up to 6 times greater than in traditional gardening rows.
Improved Soil Structure
Earthworm casting combined with binding agents released by earthworms "glues" soil particles together in water-stable aggregates. These can store moisture without dispersing. This improves soil structure and increases soil stability. Earthworm burrows also increase soil porosity increasing the amount of air and water that get into the soil. Increased porosity helps lower the density of the soil which increases root development. The density of the soil just relates to how compressed the soil is.
Worm Facts
Physical Characteristics
Earthworms don't have lungs; they breathe through their skin. They also lack eyes, so instead use receptors in their skin to sense light and touch.
They consist of a muscular hollow tube with a mouth at one end and a butt at the other. The number of segments ranges anywhere from 90 to 150. They have five hearts, a circulatory system, a mucus system, and a brain and nervous system. They have kidney-type organs that neutralize food. It has a gizzard, which grinds food. They are sensitive to temperature, light, vibration, and moisture.
Nightcrawlers live an average of six to nine years, with some reported to live up to 20 years.
Movement
Earthworms use their segmented, cylindrical body to move forward or backward using their muscles. It uses its 'round' muscles squeezed together to make it long and thin, then short to fat, pushing the body along. SETA, the tiny bristles from each segment of the worm, dig into the surrounding matter to keep the worm from slipping. They excrete mucus which helps them slide along.
Earthworm (Leni – Pexels)
Earthworms burrow up to 6 and a half feet underground. Typically, they only venture above the surface at night. Hence, that's how they earned the nickname 'night crawlers'.
Reproduction
Worms can begin breeding once they reach maturing from 50 – 90 days. Earthworms are hermaphrodites, meaning an individual worm has both male and female reproductive organs. They can perform both male and female functions and mate sometimes weekly. The mating process takes around 24 hours.
Food/Eating
Earthworms eat a lot. Daily, they consume about a third of their body weight in food. Their meal of choice is soil with compost and decaying organic matter present.
Surface Travel
You may notice that you tend to see more worms on the ground surface at night, especially when it rains. Sunlight, and specifically ultraviolet rays, can damage or kill a worm on the surface. When it rains, the theory is that it creates vibration and causes earthworms to come out of their burrows. Some say it mimics the sound of their archenemy, moles.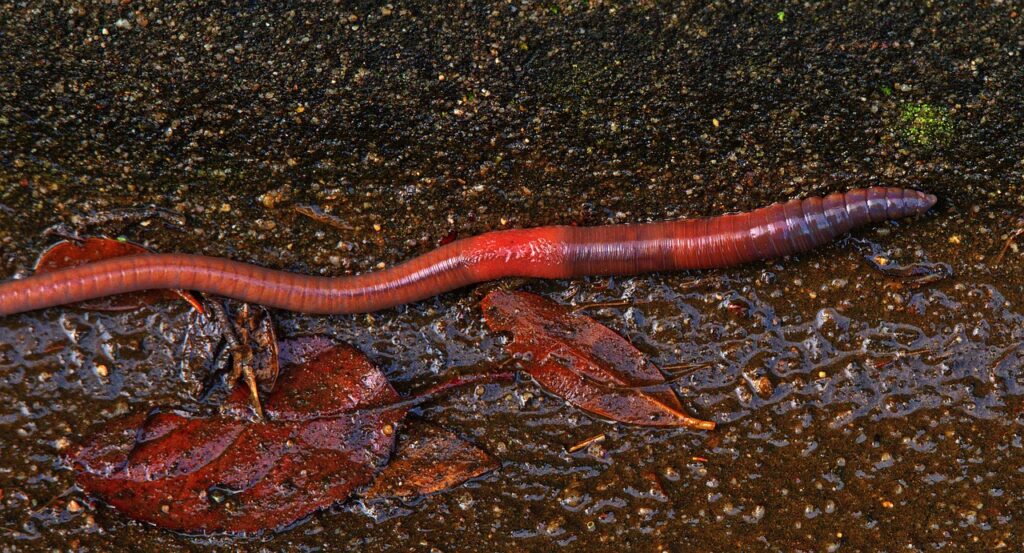 How to Attract and Feed Earthworms
We now know the benefits of earthworms in garden soil. We want to preserve and nurture earthworms as they are God's original farmers. How do we do this? What's the best way to attract them?
PH of Soil
Ensure soil PH is above 4.5. This can be adjusted by adding some lime. However, please know your PH before adding anything to the soil. Earthworms need a continuous supply of calcium which is absent in soils with a low PH.
Organic Matter/Compost
Next, increase organic matter. As stated earlier, earthworms feed on soil and decomposing plant remains. Mulching, especially with dead leaves, is a great way to attract and feed earthworms. Turn the leaf mulch into the top of your soil at the end of the season. As it decomposes, it not only helps the soil but provides nutrients for earthworms, which also helps your soil.
A gardening hack is to side-dress your plants with a little bit of spent coffee grounds or add it to your compost pile. Earthworms love coffee grounds so use it and it will attract them. Earthworms enjoy decaying organic matter so much that compost piles attract them in huge numbers.
Eliminate Fertilizers and Fungicides
Reduce the use of some Fertilizers and Fungicides. Highly acidifying fertilizers, such as ammonium sulfate, and some fungicides reduce earthworm numbers so avoid using them if possible. Other chemical spray/liquids such as pesticides doesn't make the earthworms any happier to stay in your area.
Keep Soil Moist
Keep soil moist. Worms can lose 20% of their body weight each day in mucus and castings. They need a continuous supply of moisture to live. Thus, another good reason to have leaf mold, leaf litter, or some other organic mulch in the garden beds.
Adequate Drainage
On the flip side of that, we also need to ensure the bed has adequate drainage. The soil does need to be aerated and not heavily laden with water. Raised beds are a great way to ensure you have adequate drainage.
Soil Compaction
Reduce Soil Compaction. Another big reason for raised bed gardens is the advantage it provides to keep the soil loose and friable, and therefore not compacted. With raised beds, there is no reason to step on the soil compacting it. Earthworms do not like to be walked on or live in compacted soil.
Reduce cultivation
Pulling out the tractor or till every season does break up the soil but also kills a lot of earthworms. This is another advantage of the raised bed type of gardening. I do work in amendments to my soil about 4 to 8 inches deep. I'm sure a few earthworms are harmed but nowhere near as many as plowing or tilling.
Species
There are many different types of worms including close to 200 species of worms that live in North America. Over 50 of those are invasive. Some earthworm species were accidentally brought over on European ships as ballasts and in potted plants during the 1700s and 1800s. The following are some of the most common worms:
Red Wigglers (Eisenia Fetida)
This species of earthworm is known as the red wiggler or just red worm and often may be called Tiger worms. They range from 1.5 to 2.5 inches in length. Red Wiggler worms are reddish-brown in color and have small rings around their bodies. They have a yellowish tail and bristles on each segment of their body.
I personally use Red Wigglers for my vermicomposting. They are very good at breaking down carbon and organic-based materials and turning their castings or worm poop into high-quality organic compost. These red worms are often used in worm farms.
Eisenia Fetida worms are very happy in mulchy, composted soil, and stay in the top 8 – 10 inches of the surface. They must stay moist to exist, so their desired environment is damp but not soaking wet.
Night Crawlers (Lumbricus terrestris)
Nightcrawlers are a very common type of earthworm you may see in your garden soil. Nightcrawlers are more active at night and come out when it's wet outside hence, their name, Nightcrawlers. They burrow in the soil adding tunnels processing soil and concentrating nutrients as their castings are deposited in the soil as they burrow. They can dig down as deep as 6.5 feet.
Nightcrawlers are segmented, meaning they have different sections to their bodies, and contracting these segments causes the Nightcrawlers to propel themselves forward. They can grow 8-10 inches long and have an average life span between six to nine years.
Nightcrawlers do love to the soil surface at night as long as it's moist!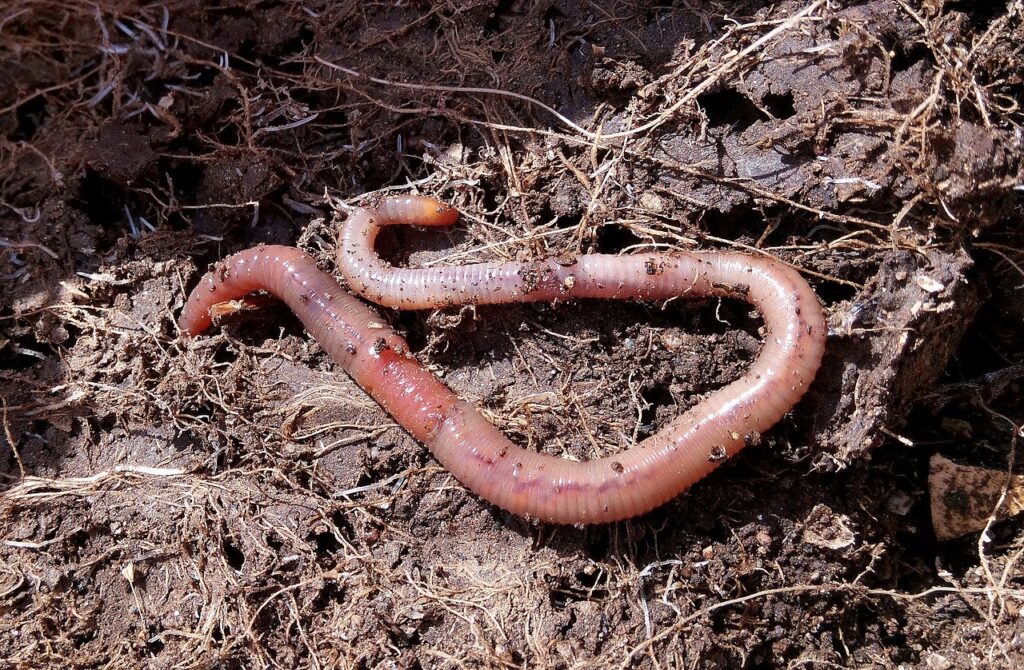 Crazy Worms (Amynthas Agrestis)
Crazy worms, also known as jumping or snake worms, are an invasive species of earthworm that is native to eastern Asia. They are rapidly spreading across the United States and can be found in the Southeast, along the Eastern Seaboard, and in the mid-Atlantic, Midwest, and some Northwestern states.
Pot Worms (Enchytraeids)
Pot worms, also known as enchytraeids or white worms, are a type of worm that are commonly found in soil. They are small, segmented worms that are usually colorless and resemble earthworms. They are often found in moist compost when gardeners are transplanting plants.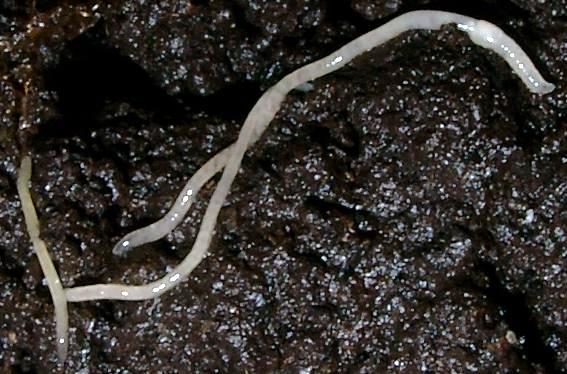 Pot worms are generally harmless and help maintain the balance of organic material in the soil. They eat decomposing organic plant waste, fungi, and bacteria. They also improve soil aeration by creating small tunnels or pores in the soil (just like earthworms).
Pot worms can sometimes be a problem because they can multiply quickly and become pests in the home. And I know, nobody wants that.
Grub Worms
Grub worms are not actually worms but rather grubs. They are the larval stage of several beetles in the scarab family. They are small, white, C-shaped grubs. Grub worms are voracious eaters that feed on grass roots and other plants. Grub worms live underground and feed on plant roots.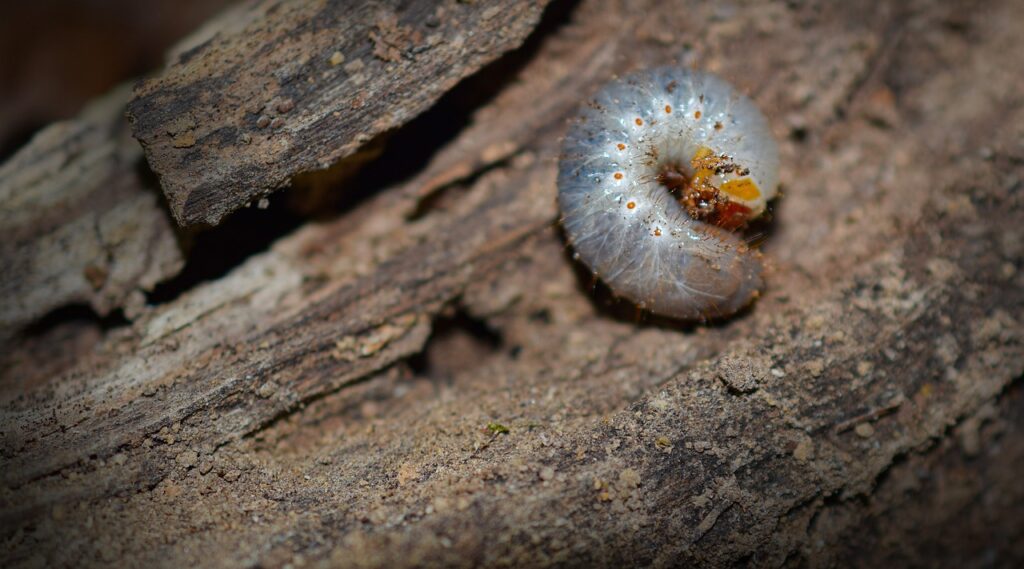 Nematodes (Phylum Nematoda)
Phylum Nematoda, the nematodes or roundworms, may exist in your garden soil. These sometimes, plant-damaging nematodes are also known as eelworms. They are microscopic and can live in marine, freshwater, and terrestrial environments.
Nematodes can be both beneficial and harmful to the garden. They can be parasites of plants and animals, including humans. They can also feed on bacteria, fungi, algae, and other nematodes. Nematodes can greatly damage certain plant roots as well.
I have actually bought beneficial nematodes from Arbico Organics to help kill grubs, specifically the Squash Vine Borer. Therefore, there are nematodes that can be both good and bad for the soil. An example of a parasitic nematode is the root-knot nematode that disturbs and eventually kills the roots of plants.
Natural Predators to Garden Worms
There exist, several natural predators, to garden worms and including smaller mammals like moles, shrews, and hedgehogs, reptiles like snakes and lizards, insects such as ants, beetles, and centipedes. Of course, birds are natural predators of worms. The list includes frogs and toads, along with certain species of nematodes.
Some insects also target worms including tachinid flies, spiders, lady beetles, and other predatory bugs.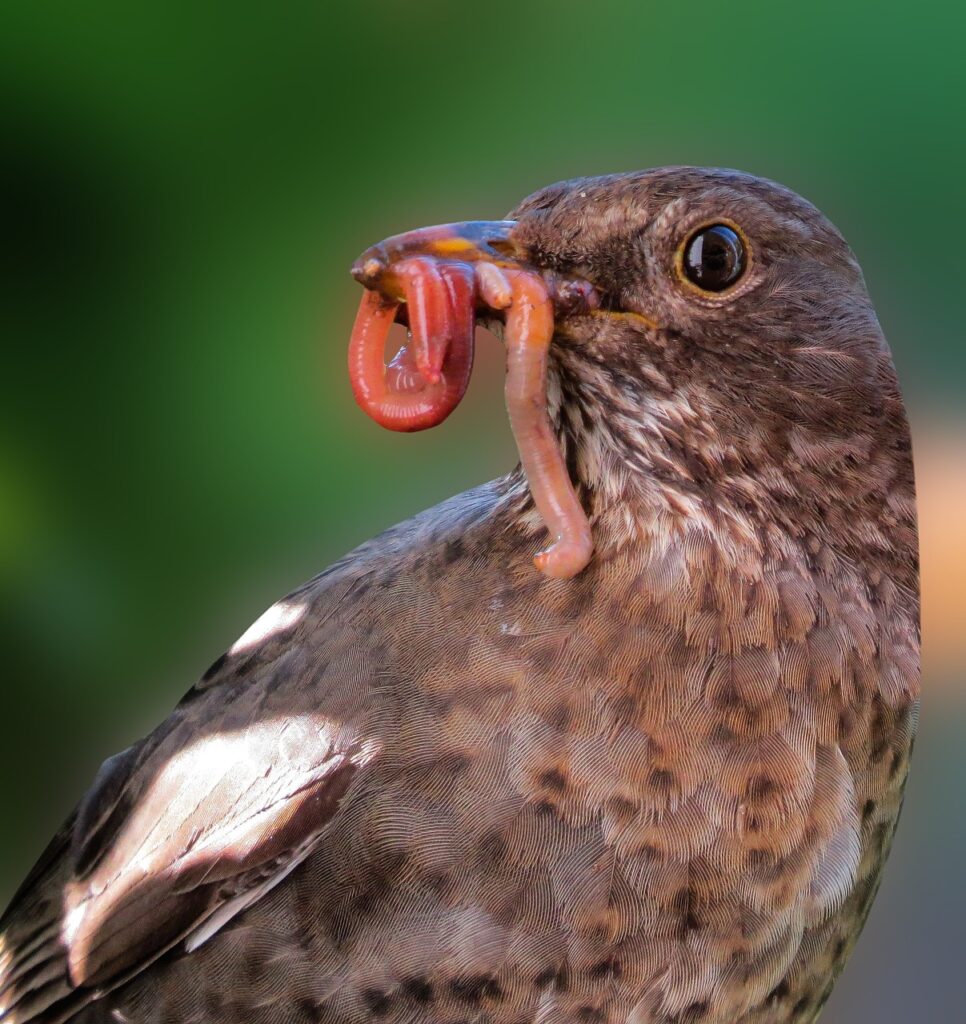 Are Worms in your Garden Soil Bad for Your Plants? The benefits of earthworms in garden soil, whether in-ground, raised beds, or even potted plants, are clear and easy to see. Earthworms are the original farmers. Do what you can to attract and not kill them such as tilling your soil.
If you like this content, you will love my Spring Garden Planning Checklist post, along with my Complete Guide to Growing Cilantro post! Also check out my 62 Top Dry Soil Amendments post.
Also, check out my sister YouTube site at Louisiana Simple Living.