The Great State of Louisiana, sitting mostly below sea level, has different climates throughout each region of the state. The US Department of Agriculture has designated different plant hardiness zones depending on the region and climate of the state. Use these plant hardiness or gardening zones as a reference to better understand what species of plant to grow either as an annual or on a perennial basis. These zones are based primarily on the average lowest temperatures in each specific zone. If you are wondering what zone is Louisiana for plants, then you are in the right place!
Perennial plants regrow every spring, while annual plants live for only one growing season, then die off. Perennials generally have a shorter blooming period compared to annuals. So, it's common for gardeners to use a combination of both plants in their yard.
Understanding the USDA Plant Hardiness Zone, the climate, soil types, amongst other factors, gives a gardener a real chance to have a successful vegetable and/or flower garden. Review this article and prepare to do just that.
USDA Plant Hardiness Zones
The USDA (United States Department of Agriculture) has established different plant hardiness zones throughout the United States. The following image shows the USDA Hardiness Zone maps for the entire country, the South-Central region and the state of Louisiana:
USDA Plant Hardiness Zones for the USA
The map below show the wide range of hardiness zones for all states in the country.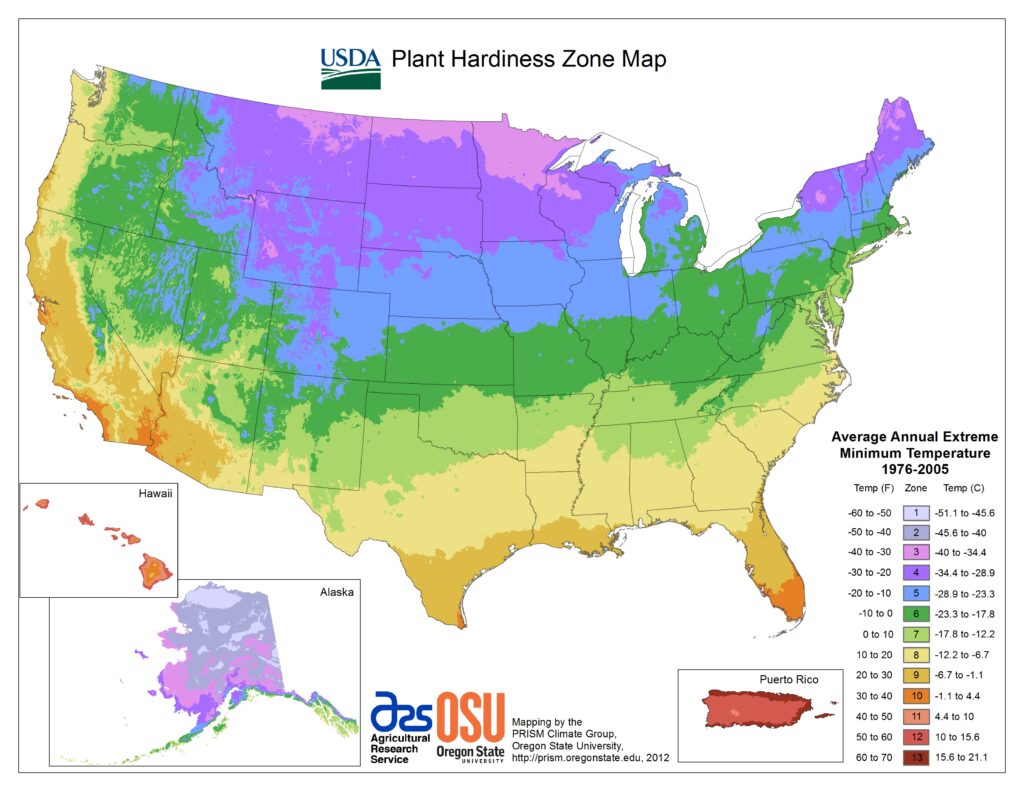 USDA Plant Hardiness Zones for the South-Central region
The Plant Hardiness maps for the South-Central region includes the states of Oklahoma, Texas, Arkansas and Louisiana.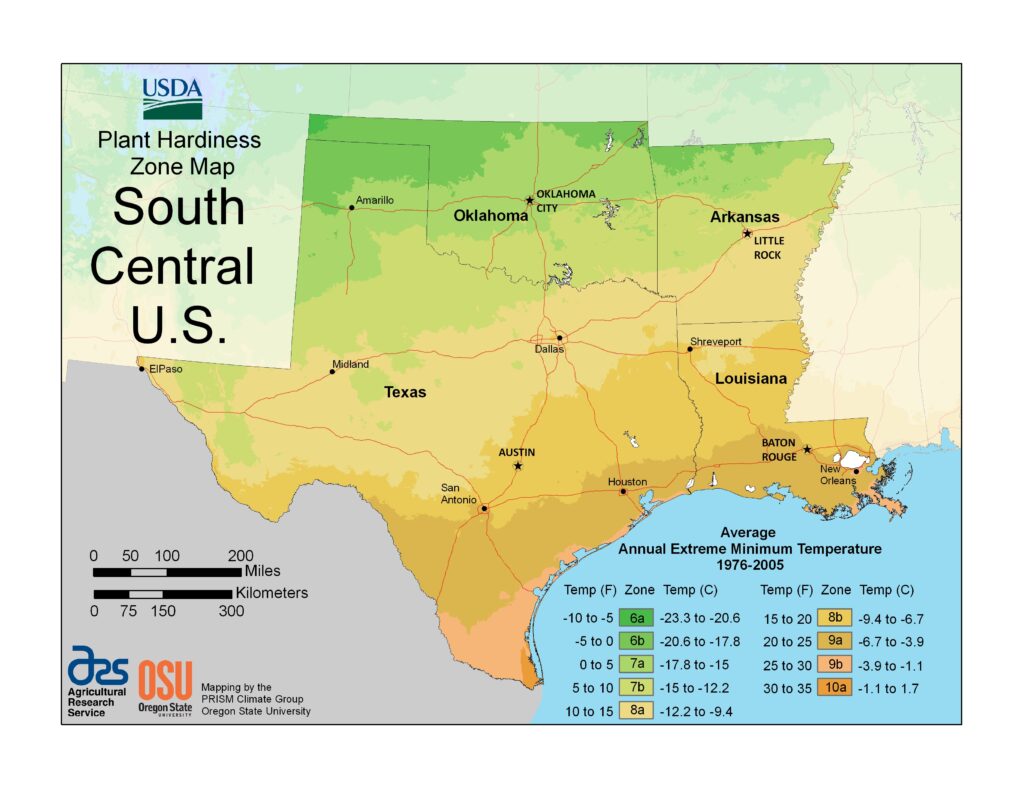 USDA Plant Hardiness Zones for Louisiana
The Plant Hardiness Zone Map for the entire state of Louisiana is below.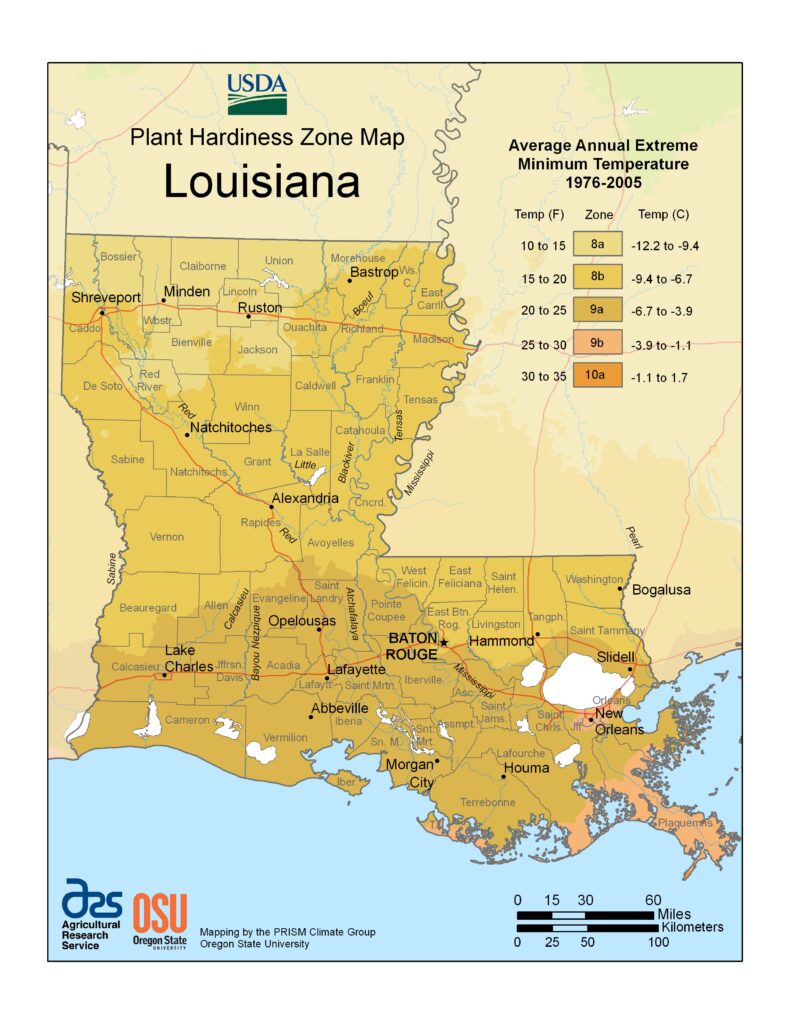 Louisiana Regions in USDA Plant Hardiness Zones
The state of Louisiana is divided into 64 parishes, which are the same as counties in other states. Parishes are used, as opposed to counties, due to the French Catholicism descendants that brought the Cajun culture and church parishes from France and Nova Scotia.
As you can tell from the USDA Plant Hardiness Zone Map of Louisiana, there are 5 distinct different climates and plant hardiness zones. These zones range from Zone number 8A to 10A. Differences in the average maximum and minimum temperatures, along with first and last frost dates, are all part of the criteria for each USDA Plant Hardiness Zone. Generally, Louisiana sees hot humid summers and relatively mild winters.
Gardening is Local
Somebody once said that "gardening is local". This means that each gardener needs to evaluate their own soil, climate or micro-climate, along with the USDA Plant Hardiness Zone, first and last frost dates and what plants can be hardy enough to survive the extreme winter temperatures experienced in your specific garden location. In some cases, it may be hard to pinpoint if you are in one zone versus an adjacent zone. Think about your "local" conditions to ensure you have a successful garden.
North Louisiana (Zone 8A)
Zone 8A is the region at the very top of Louisiana. It includes portions of Bossier, Claiborne, Union, Red River and Jackson parishes, and includes towns such as Minden and Ruston. The average annual extreme minimum temperature is 10 to 15 degrees F (degrees Fahrenheit) in Zone 9A.
Central Louisiana (Zone 8B)
Zone 8B represent mostly central and northern central parishes including Caddo, Desoto, Sabine, Rapides, Winn, among other central parishes. Towns include Alexandria, Pineville, Natchitoches, Vidalia and Marksville, among others. The average minimum temperature is 15 to 20 degrees F in Zone 8A.
South Central Louisiana (Zone 9A)
Zone 9A represents the central and south central parishes including Calcasieu, Jefferson Davis, Acadia, Cameron, Point Coupee, East Baton Rouge, West Baton Rouge, Vermillion, Terrebonne, among others. Most parishes from the south center of the state down to the Gulf of Mexico coast are in Zone 9A. The average annual extreme minimum temperature is 20 to 25 degrees F in Zone 9A.
South Louisiana (Zone 9B)
Zone 9B is mostly within the Mississippi Delta region in deep Southeast Louisiana. It includes a small area in the Terrebonne, Lafourche, Jefferson, Orleans, and Plaquemines parishes. The average annual extreme minimum temperature is 25 to 30 degrees F in Zone 9A.
Gulf of Mexico Delta Region (Zone 10A)
Zone 10A is local to the deep southern portion of the Mississippi Delta in Plaquemines parish. The average annual extreme minimum temperature is 30 to 35 degrees F in Zone 9A.
Louisiana Climate
Climate covers everything from averages to extremes of meteorological variables including temperature and rain. The Koppen climate classification give information about this variables.
The entire state of Louisiana is in the Humid Sub-Tropical climate classification, per the Koppen classifications. Within this climate conditions, you will experience hot summers, while winters to be cold to mild. The average temperature of the coldest month is below 64 degrees F and above 27 degrees F. There is usually no designated dry season and rainfall is plenty but variable.
The average annual temperatures, range from 64 degrees F in north Louisiana, to 69 degrees F in the southern part of the state.
Annual Precipitation
The average annual rainfall for Louisiana is 57.05 inches per year. The averages do range though across the different sub-climates in the state. It averages less than 50 inches in the Northwest portion of the state near Shreveport, LA. It averages greater than 65 inches per year in the southeast region of the state.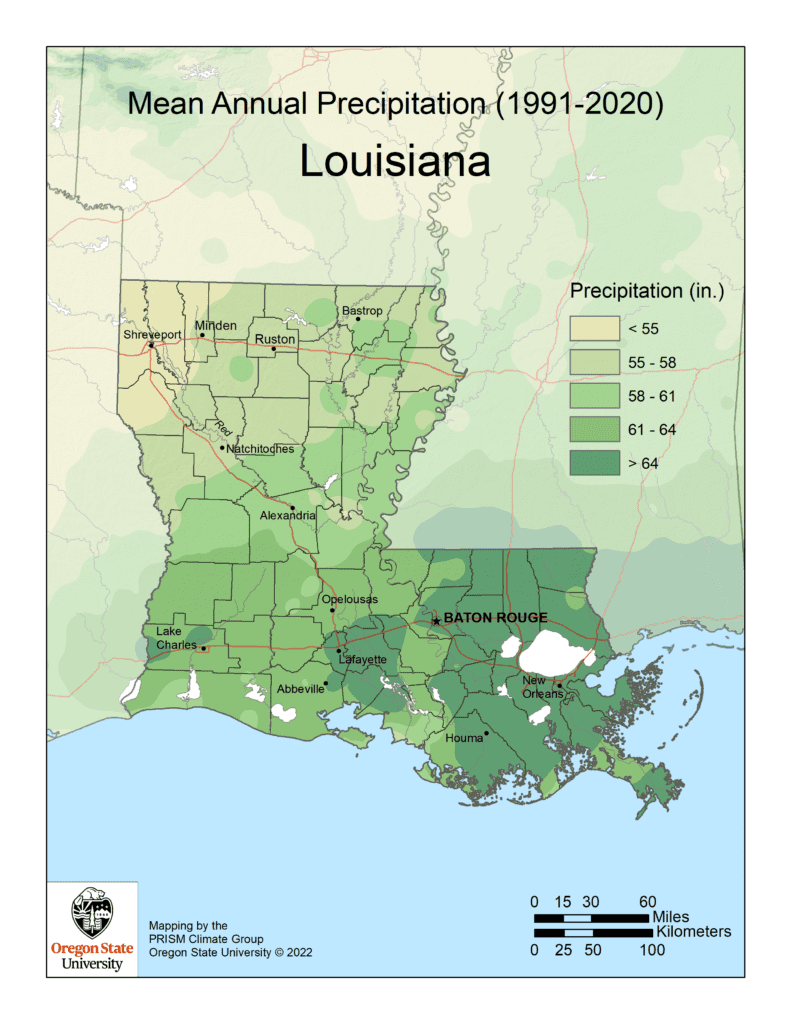 What Affects Climate in Louisiana?
There are many things that affect climate, and there's even micro-climates within local areas. Climates generally are affected by:
Latitude: Temperature range increases with distance from the equator
Altitude: Temperatures decrease with height as the air is less dense and cannot hold heat as well
Winds: Winds blown in from a hot area can raise temperatures
Humidity: Moisture in the air has in impact on how people and plants feel the effects of temperatures.
Distance from the sea (continentality)
Exposure: If trees, structures, or other factors cause shade, blocks the wind, etc.
Louisiana's climate is under a strong influence from the Gulf of Mexico. Rain is common throughout the entire year, but summers are wetter than the rest of the year. Thunderstorms result from the heat of summer days and there are often quick but intense tropical downpours. Winters are generally fairly warm in the southern parts of the state. The northern regions are mildly cold winters, with average lows remaining well above freezing and average highs at right around 59 degrees. The state regularly sees tropical cyclones and major hurricanes.
All of these factors come into play in understanding the climate and ultimately, the plant hardiness zones and whether a plant will survive as a perennial or annual.
First and Last Frost
The only real factor that matters when determining the USDA growing zone of a region is its extreme temperature lows. Use the average annual minimum winter temperature while looking at the temperature requirements of your plants to determine whether it is a good fit for your climate. That's the first step.
average annual minimum winter temperature
The second step is to determine your particular area's first and last frost date projections based on your city name or Zip Code. There are many sites to check this such as the Farmer's Almanac.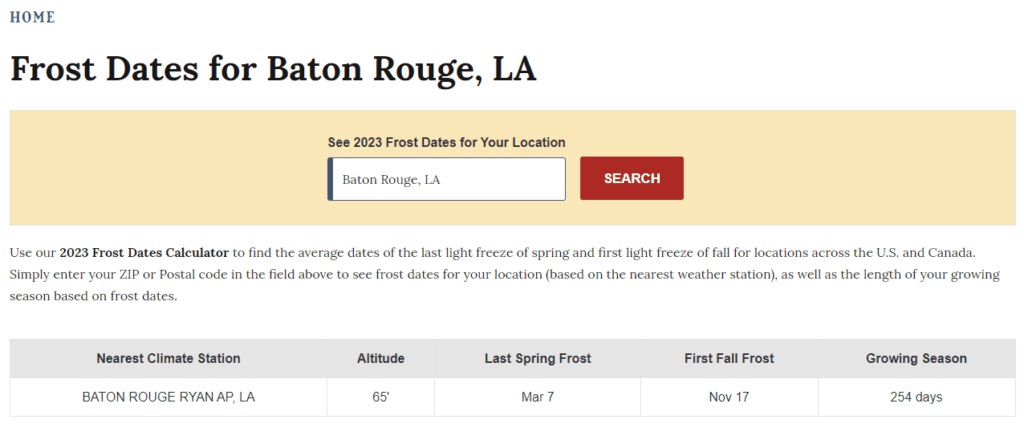 Next is a determination, if an annual, as to when you can plant the plant or sow the seed based on the first and last frost date, along with time to maturity. For example, the latest sow date for a plant that get to maturity in 70 days, must be sowed at least 70 days prior to the first freeze date in order to get a harvest in before the plant is damaged by the first frost. Conversely, you do not want to plant a seedling or sow a seed before the last expected frost date in the late Winter or early Spring.
An important concept is to understand the projected first and last frost dates are merely a projection based on historical climate data. The example above by the Farmer's Almanac uses a 30% probability factor when determining the projected dates. That means there is some limited risk with planting out seedlings in your garden based on this date as Mother Nature will decide if it wants to follow these dates or not. In southeast Louisiana, we experienced a hard freeze a week after the above projected last Spring frost.
Growing Seasons
The growing season represent what portion of the year that your can grow. It refers to the number of days between the last frost of the Spring and the first frost of the Fall. This is the part of the year when the weather conditions are conducive to good plant growth based on temperatures and rainfall. Louisiana, due to it's climate has a long growing season.
The average growing season ranges from 220 to 320 days and the average precipitation ranges from almost 45 inches (1,140 mm) at Shreveport to more than 56 inches (1,420 mm) at New Orleans.
Gardening in Louisiana is very much a year around affair, regardless of the climate. There are hardy plants, perennials, and annual that do well even in the coldest or hottest months of the year. There are a number of perennials, mostly native plants, that can grow and thrive year after year.
Louisiana has a humid subtropical climate weather patterns meaning hot, long and very humid summers and relatively mild, short winters. Louisiana has low lying topography and low latitude. As you can see, with the USDA Plant Hardiness Zones, and extreme average temperatures, this makes Louisiana planting zones fairly consistent across the state.
Soil Types in Louisiana
Louisiana has a variety of soil types. Soils form from rock and sediment over long periods of time. The texture of soils is determined by the amount of weathering caused by temperature changes, moisture content and other factors. Louisiana is part of 11 Major Land Resource Areas (MLRA), according to the U.S. Department of Agriculture. Most of the soils in the state were formed from alluvial sediments deposited by the Mississippi, Ouachita and Red Rivers.
It is important to understand the local garden's soil type, especially if using conventional rows or you soil that's in-ground. If you have never checked, it may make sense to get the soil analyzed to understand what amendments may be needed. The LSU AgCenter offers a program where sample can be submitted and a report of the soil analysis and recommendations is offered.
The soil analysis program has less value for those backyard gardeners using raised beds not containing in-ground soil. There are a variety of well-balanced raised bed soil mixes available commercially or a prescriptive soil mix that can be put together DIY-style such as Mel's Mix (made famous from Square Foot Gardening).
The Right Plants for Louisiana and Your Zone
Cotton, sugarcane, rice, soybeans, corn (maize) and feed grains, and sweet potatoes are the main agricultural crops produced in the state. Community and backyard gardens have tremendous success with corn, beans, tomatoes, tomatillos, sweet and hot peppers, cabbage, cucumbers, melons, eggplants, garlic, okra, mustard and collard greens, swish chard, summer and winter squash, watermelon, amongst many other crops.
Selection of Plants
Selection of each particular plant is an exercise of understanding the seeds or seedlings you may be purchasing and which Zones are recommended. You can usually find this on the back of a seed packet or on a plant's label. If purchasing plants or seedlings from a local plant nursery, you can generally assume that they offer plants suitable for the plant hardiness zones in that area. Purchasing from a big box store may need a little bit more scrutiny.
Perineal Plants
As for perineal plants, one of the best sources is to identify the native plants found in and around the local area. These native plant species are tested and proven to be hardy plants or they would not be long-lasting or considered native to the area. Many perineal plants are knocked back when there is a hard freeze. However, they will come back next Spring.
Hot and Cold Impact on Plants
One would think looking at the USDA Plant Hardiness zones, that the coldest extreme temperatures, are the only consideration for hardy plants. However, Louisiana's extreme summer heat also has a significant impact on what plants will thrive, including trees, shrubs, ground cover, etc.
Louisiana's hot summer climate may tempt you to select plants that are more accustomed to drier or more drought-like climates. This would not be a good choice as most plants adapted to a dry climate will eventually rot and die during periods of heavy rainfall that Louisiana's climate tends to experience.
Louisiana City Highlights
What USDA Plant Hardiness Zone is Baton Rouge, LA?
Baton Rouge, LA, the State Capitol, is in Southeast Louisiana in East Baton Rouge Parish on the east side of the Mississippi River.
In 1699, French explorers discovered the area where Baton Rouge is now located. Pierre Le Moyne D'Iberville's writings refer to the area as Istrouma or Red Stick, which when translated into French becomes Baton Rouge. The town was under the control of France, England and Spain at different times through its infancy.
Baton Rouge, Louisiana's capital city is now 74.74 square miles in size with some 230,000 people. East Baton Rouge Parish population is approximately 412,500 and is 472.1 square miles in size.
Baton Rouge is in USDA Plant Hardiness Zone 9A.
What USDA Plant Hardiness Zone is New Orleans, LA?
New Orleans, about an hour east of Baton Rouge, is in Orleans Parish. The history of New Orleans, LA is rich and deep. The French founded New Orleans in 1718. It went under Spanish control and then back to France. It was then acquired by the United States as part of the Louisiana Purchase in 1803. New Orleans is a world reknowoned destination that has uniquely rich cultural experience. The architecture is also something to behold. It remains a major destination for live music, tourism, conventions, sporting events and the annual Mardi Gras celebration.
The city of New Orleans was incorporated in 1805 and currently has a population of around 370,000 and encompasses 170 square miles. It is also part of the Greater New Orleans Metropolitan area with an estimated population of 1,271,845 and covers 3755 square miles.
Portions of Greater New Orleans are in both USDA Plant Hardiness Zone 9A and 9B.
What USDA Plant Hardiness Zone is Lake Charles, LA?
Lake Charles, LA, about two hours west of Baton Rouge, is in Calcasieu Parish. The town was first incorporated in 1857 as Charleston, LA., named after, Charles Sallier. Ten years later, on March 16, 1867, Charleston was reincorporated as the City of Lake Charles. The Great Fire of April 1910 devastated much of the city. Lake Charles soon rebuilt, grew and expanded in the twentieth century. It is the fifth-largest incorporated city in the U.S. state of Louisiana, and the parish seat of Calcasieu Parish. Lake Charles has a population of close to 88,000 residents and encompasses nearly 46 square miles.
Lake Charles is in USDA Plant Hardiness Zone 9A.
What USDA Plant hardiness Zone is Alexandria, LA?
Alexandria, LA, about two hours northwest of Baton Rouge, is in Rapides Parish. The town was first incorporated on March 18, 1819, and received its official Charter from the Legislature in 1832. In 1882, Alexandria became a city with a Mayor, Justice of the Peace, and Treasurer. It is now the ninth-largest city in the state of Louisiana and is the parish seat of Rapides Parish, Louisiana, United States. Alexandria has a population of close to 44,000 residents and encompasses nearly 29 square miles. It lies on the south bank of the Red River in almost the exact geographic center of the state
It is in USDA Plant Hardiness Zone 8B.
What USDA Plant Hardiness Zone is Shreveport, LA?
Shreveport, LA, about a four hour drive northwest of Baton Rouge, is in Caddo Parish. Shreveport is the 3rd most populous city in Louisiana, with a population of over 200,000 and spans about 110 square miles. The town is part of the Shreveport/Bossier City Metropolitan area that spans over 2699 square miles with a population of over 400,000.
Shreveport, Louisiana, was founded in 1836, by the Shreve Town Company. The town was developed at the juncture of the newly navigable Red River and the Texas Trail, an overland route into the newly independent Republic of Texas and, prior to that time, into Mexico. On March 20, 1839, the village of Shreve Town was incorporated as the town of Shreveport.
Shreveport is in USDA Plant Hardiness Zone 8B.
Conclusion
The state of Louisiana has 5 separate U.S. Department of Agriculture Plant Hardiness Zones starting at 8A at the very top of the state all the way down to the 10A at the very southern tip of the Mississippi Delta. These plant hardiness or growing zones is used as a reference for gardeners to better understand what species of plant can be grown successfully, either as an annual or perennial, in each plant zone.
If you like this content, make sure you checkout my 7 Reasons to Start a Garden or my Seeding Square Template post. Also, I'm sure you will absolutely enjoy checking out my Louisiana Simple Living YouTube channel where I focus videos on teaching about raised bed gardens and achieving bountiful harvests.